Musical collaborators and life partners Juliette Pearl Davis and Joachim Polack are Pearl & The Oysters. Their Stones Throw debut Coast 2 Coast is out now. It's an album documenting their move from Florida to L.A.
Purchase vinyl: Pearl & The Oysters – Coast 2 Coast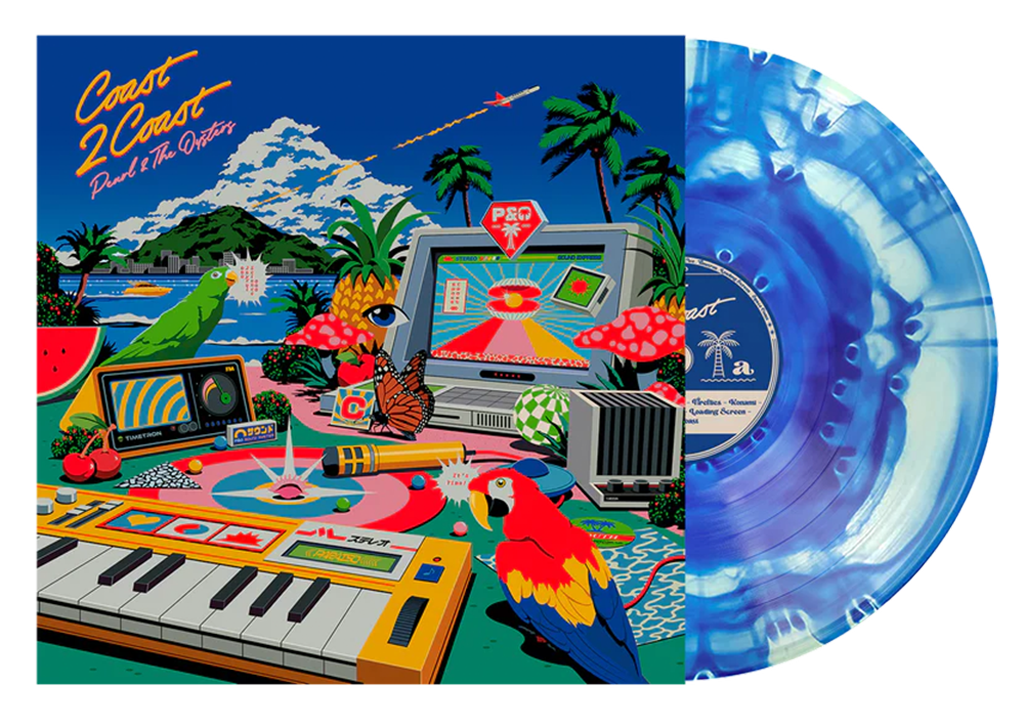 Juliette (Pearl) and Joachim (The Oysters) met at high school in Paris and formed an immediate bond through their mutual love of music and pop culture, spanning everything from '70s jazz to '90s space-age pop.
Coast 2 Coast draws on Juliette and Joachim's time spent in Paris, the swamps of Florida, sunny Southern California, and beyond. "After moving so many times we feel that everywhere is our home and nowhere is our home either. Maybe that's why we're so attached to writing songs about places that make us feel good. Now, we've found that sense of 'home' in one another," Juliette says of Coast 2 Coast.
Collaborators on the project include Lætitia Sadier (Stereolab), Riley Geare (Unknown Mortal Orchestra, Caroline Rose, La Luz), Alan Palomo (Neon Indian), Dent May, and Mild High Club's Alex Brettin. Juliette's father plays vibraphone on the album, too.
"Read the Room" features one of JuJu and JoJo's all-time favorite musicians — Lætitia Sadier of Stereolab. "We knew straight away that we wanted to work with Lætitia when we had the idea of double-lead vocals," Juliette and Joachim say. The band describes the technicolor animation directed by Mickey Miles as "full faux-baroque glam" — a cosmic voyage across space and time, coasts and galaxies — and Pearl & The Oysters' many inspirations.
"Paraiso" reimagines idyllic 20th-century Californian tourism ads and dreams of a time "when the idea of the 'endless summer' was more of a luxury commodity than a looming menace." "Konami" ( "small wave" in Japanese) was influenced by Juliette's white noise machine and its "surf" setting: "Somehow the beat reminded us of the kind of music associated with 90s jet ski arcade games like Wave Shark."
"Pacific Ave," written about their move from Florida to Los Angeles, features Alex Brettin of Mild High Club on guitar. The "Pacific Ave" video directed by Sean McGuirk, an '80s-style live TV performance, was inspired by Japanese Jazz Fusion artists like Casiopea and Yellow Magic Orchestra's embrace of both analog and digital in their music and visuals.
Pearl & The Oysters head out on a 27-city tour throughout the U.S. and Canada starting in April and running through May. Find tour dates and tickets below.
Pearl & The Oysters Coast 2 Coast Tour Dates
April 29 – Los Angeles, CA – Lodge Room
May 2 – Sacramento, CA – Starlet Room
May 4 – Portland, OR – Mississippi Studios
May 5 – Seattle, WA – Belltown Bloom Festival
May 6 – Boise, ID – Neurolux
May 7 – Salt Lake City, UT – Kilby Court
May 9 – Kansas City – MO – recordBar
May 10 – Minneapolis, MN – Green Room
May 11 – Chicago, IL – Empty Bottle
May 12 – Detroit, MI – The Magic Bag
May 14 – Montreal, QC – Casa Del Popolo
May 15 – Troy, NY – No Fun
May 17 – Brooklyn, NY – Elsewhere Zone 1
May 18 – Philadelphia, PA – PhilaMoca
May 19 – Lancaster, PA – The B Stage
May 20 – Washington, DC – Comet Ping Pong
May 22 – Charlotte, NC – Snug Harbor
May 23 – Gainesville, FL – Heartwood Soundstage
May 24 – Tallahassee, FL – Play of Sunlight Mushrooms
May 26 – Austin, TX – Mohawk
May 27 – San Antonio, TX – Paper Tiger
May 29 – Phoenix, AZ – Trunk Space
May 31 – San Francisco, CA – The Chapel