Pearl & The Oysters' Stones Throw debut Coast 2 Coast released back in April and now Juju and Jojo are calling upon some of their favorite musicians and collaborators to remix tracks from the record for their upcoming Coast 2 Coast Remixes EP, out December 8.
For the first song, the duo reached out to Los Angeles artist Vicky Farewell for a bubble pop version of "Fireflies". Where Coast 2 Coast sees the morning sun rise over swamps of Florida and sandy L.A. beaches, Coast 2 Coast Remixes captures the duo at night, sipping colorful cocktails while watching rockets land on the moon.
Next up: Salami Rose Joe Louis' remix of "Loading Screen", a track about "screen addiction and over-stimulation in the www age." Using her studies in planetary sciences as inspiration, Louis explores ideas of multiverses and climate change in her music. She shares this concern with Pearl & The Oysters, who express anxiety about the state of the planet throughout Coast 2 Coast.
Friend and labelmate Jerry Paper shared their remix of "Konami", a song which was originally inspired by Juliette's white noise machine used to overcome restless nights. Pearl & The Oysters have been friends with Jerry Paper since they moved to L.A., and supported them on tour in the US which is where Paper first heard the song.
Coast 2 Coast Remixes Tracklist
1. Fireflies (Vicky Farewell Remix)
2. Moon Canyon Park (The High Llamas Remix)
3. Konami (Jerry Paper Remix)
4. Pacific Ave (Brijean Remix)
5. Loading Screen (Salami Rose Joe Louis Remix)
6. Paraiso (Maylee Todd Remix)
7. Joyful Science (Peanut Butter Wolf Remix)
Buy vinyl: Pearl & The Oysters – Coast 2 Coast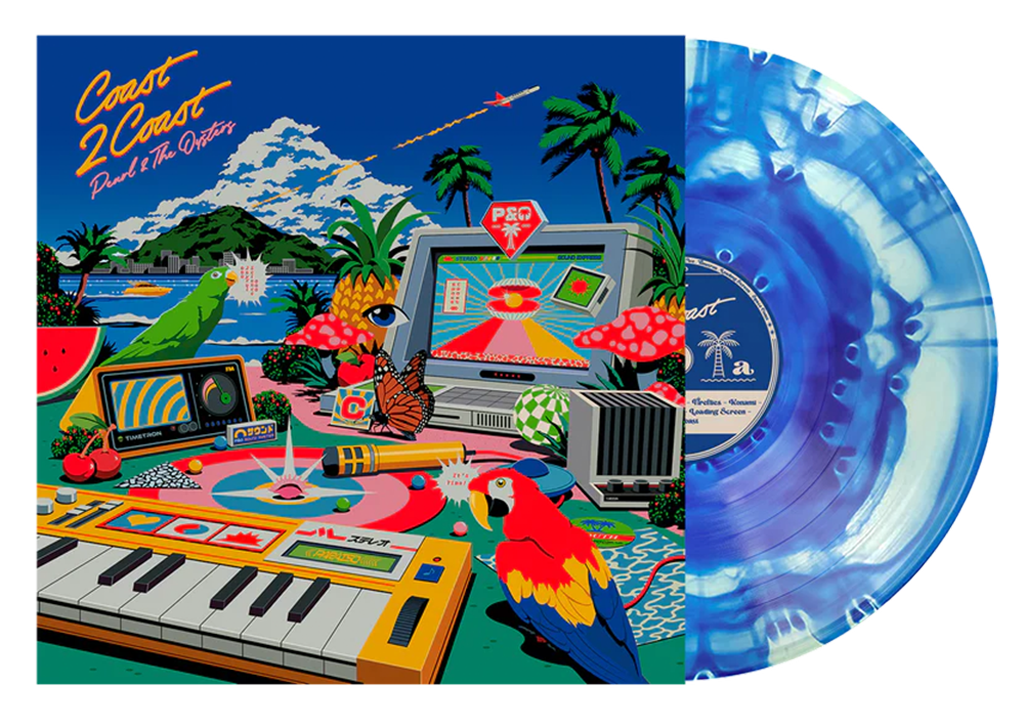 Will Pearl & The Oysters' rocketship touchdown in a city near you? Juju and Jojo are hitting the road to end 2023 with three upcoming shows in California followed by stops in the Netherlands, Germany and more starting January 2024.
Pearl & The Oysters Upcoming Tour Dates
Dec 27 – Santa Barbara, US – Moe's Alley
Dec 28 – San Francisco, US – The Chapel
Dec 29 – Los Angeles. US – Echoplex
Jan 17 – Amsterdam, NL – Paradiso
Jan 18 – Groningen, NL – Eurosonic Festival
Jan 19 – Rotterdam, NL – V11
Jan 20 – Gent, BE – Trefpunt
Jan 23 – Cologne, DE – Bumann & Sohn
Jan 24 – Hamburg, DE – Aalhaus
Jan 25 – Berlin, DE – Schokoladen
Jan 26 – Frankfurt, DE – Gaststätte zur Insel
Jan 27 – Zurich, CH – Waxy Bar