4/LP box set + 20p. booklet. This anthology collects the seminal tracks from Egyptian Lover beginning with his debut "Theme" in 1983. Each of the 22-tracks are taken from the original reel tapes, including three previously unreleased tracks circa 1985. The booklet contains liner notes by Jeff Weiss, original photos and ephemera from Egyptian Lover's collection, and notes for each track. The collection was compiled by Peanut Butter Wolf. Mastered by Kelley Hibbert. Coordinated by Jodi Burian and Jason McGuire. Design by Jeff Jank.
Liner notes and track list below.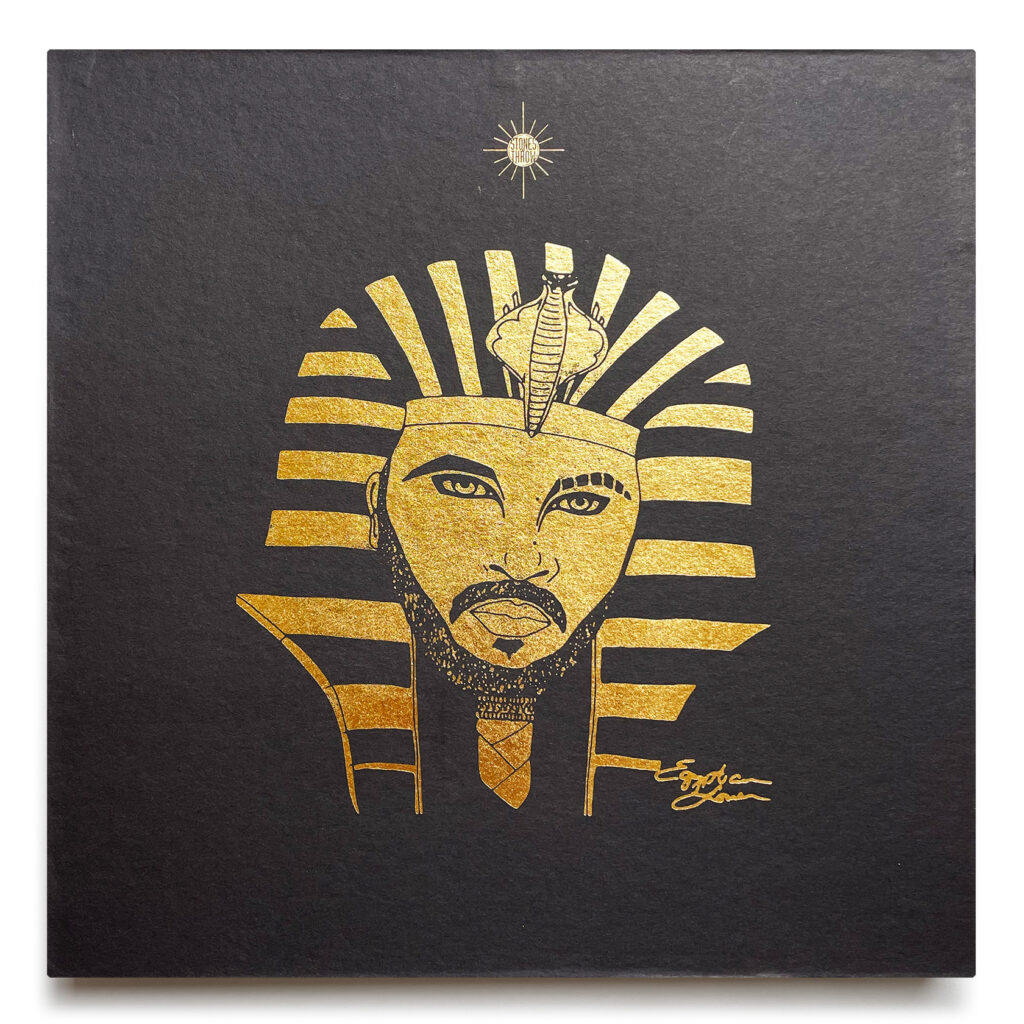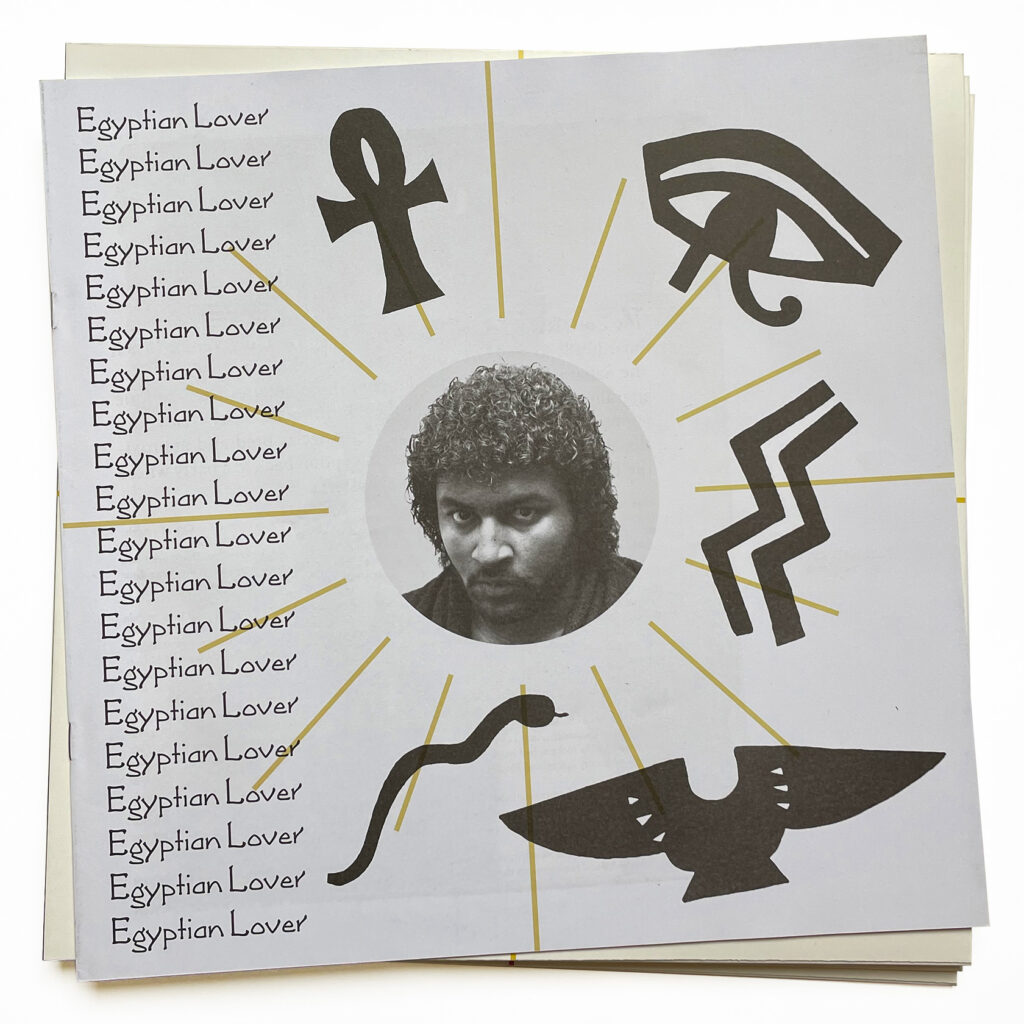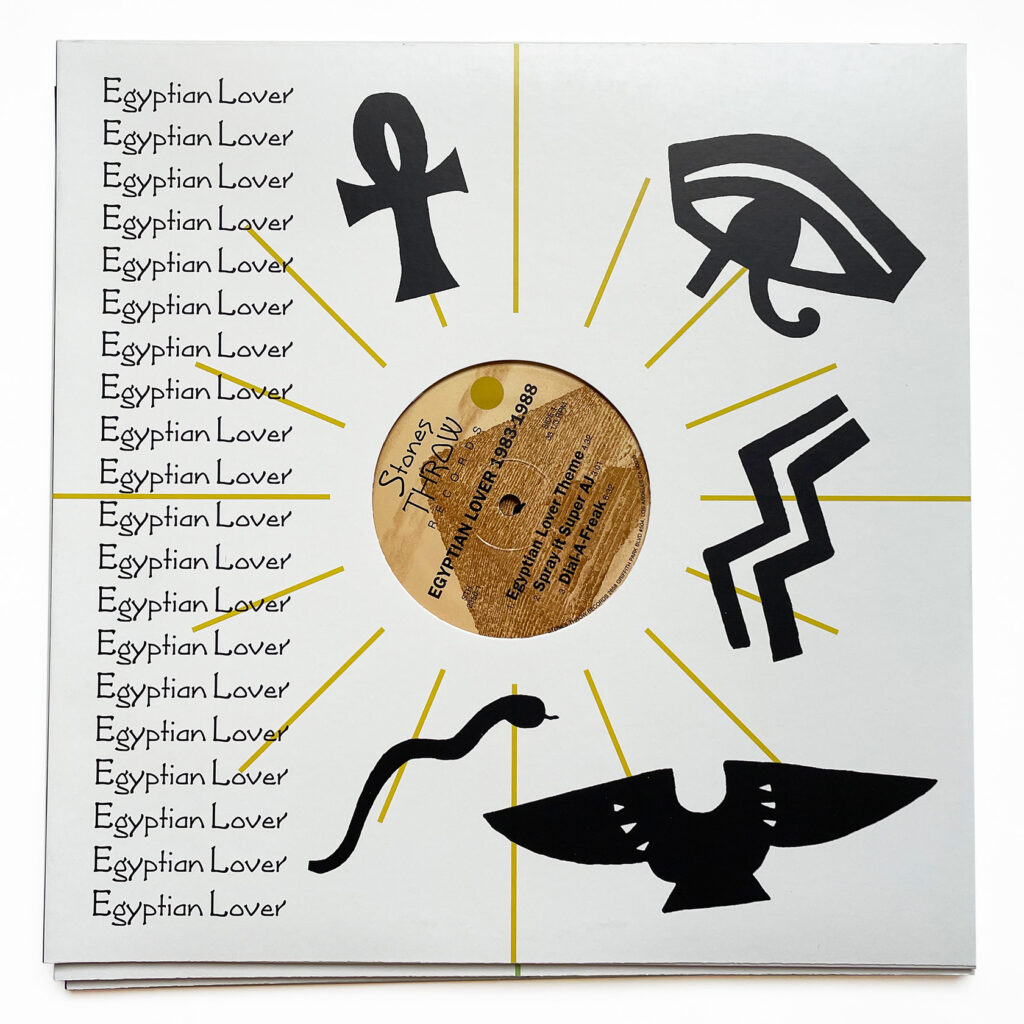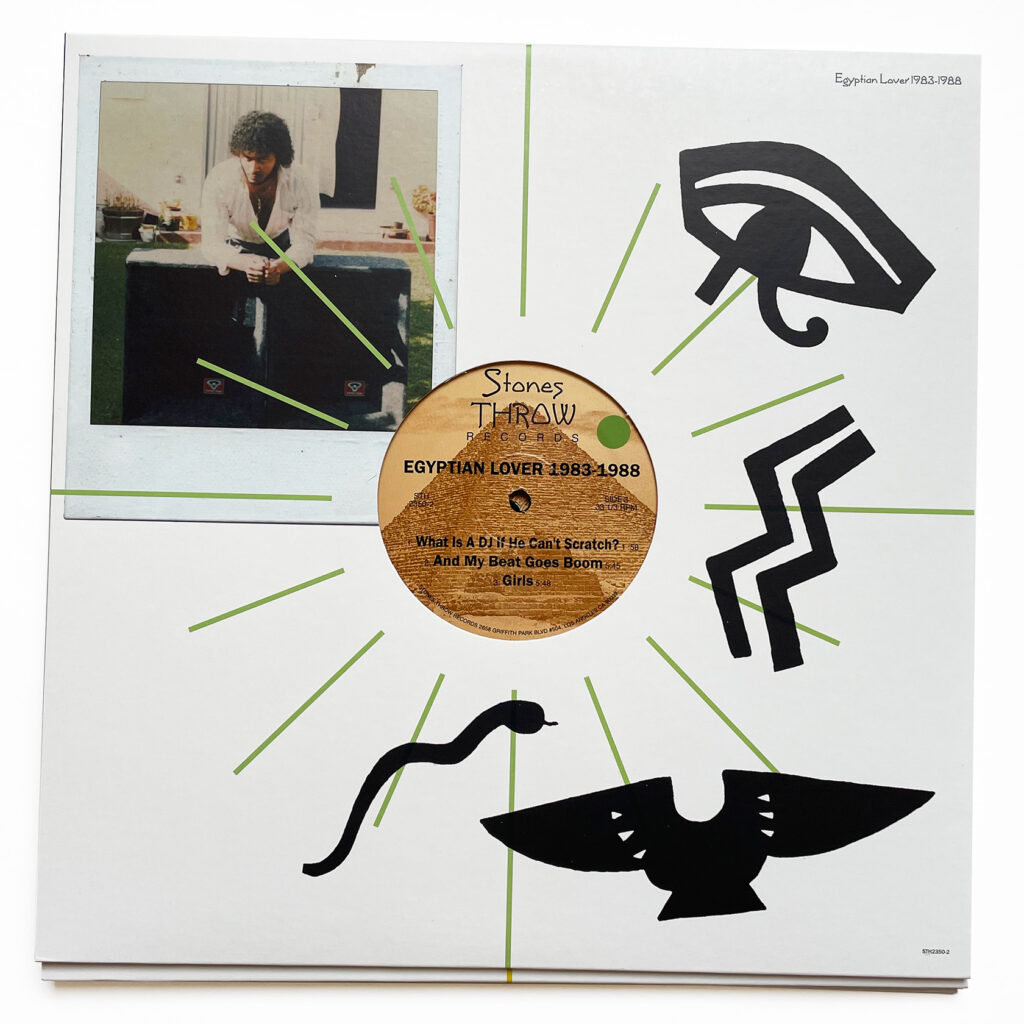 Liner Notes by Jeff Weiss:
The constellation of freaks spanned from the Venice Beach boardwalk to the Los Angeles Sports Arena, South Central to the Sahara. The sweat still simmers three decades later, residue ingrained into the textures of the 808 thwacks, nasty lyrics, and spontaneous grinding. If you're Los Angeles-bred and approximately 30, consider tracing your conception back to a party where the Egyptian Lover incited carnal hysteria.
1984. In that Orwellian year of supreme freakdom, the Summer Olympics briefly subsumed the City of Angels. Marvin Gaye was murdered by his vengeful father in West Adams. Ghostbusters allayed paranormal worries through the proton-packed vigilance of sarcastic PhDs who smoked 2 packs a day. In Pasadena, David Lee Roth, front man for Van Halen, sold a nation on the power of jumping in neon spandex. And amidst the dance floor infernos of late-funk Los Angeles, the Egyptian Lover received total idolatry, hip-hop's first pharaoh.
The sweat dripped from the ceiling and oozed from the walls wherever Uncle Jamm's Army set up their mobile temples of sin. Neither Levantine hieroglyphic nor Kama Sutra could have ever envisioned the sight of 10,000 freaks at the Sports Arena, writhing atop the Clippers home floor in tune to the dark-space electro-hop of "Egypt, Egypt." The Nile was Figueroa St. and Ramses was Greg Broussard casting spells atop a black pyramid of 32 Cerwin-Vega speakers, simultaneously spinning records backwards and forwards, scratching, and spitting Spanish Fly raps.
Only 36 months prior, Broussard had been a senior at James Monroe High School in the San Fernando Valley. Bussed in from Slauson and Compton Ave. in South Central, the adolescent Lover absorbed alternative culture (to him) on the long rides to the 818. At lunch dances, he honed his natural crowd-pleasing instincts by mixing Rick James, Prince, Funkadelic, and Lakeside with the Rolling Stones, Led Zeppelin and Rod Stewart in full rooster disco mode. By the lockers, he'd hawk his own mixtapes that blended original analogue raps to The Sugarhill Gang, Kurtis Blow, Jimmy Spicer, and Blowfly.
"I was buying 45s with instrumentals on the B-Side and making my own edits with cassette tapes, plugging headphones into the mic and rapping over them," The Egyptian Lover remembers. "I never had turntables, just one record player and a cassette deck. I'd cue the record and pause the cassette tape at the same time to do crazy stuff."
Hip-hop was audible but mostly invisible. Once "Rapper's Delight" broke west, the balance started to slowly tilt away from R&B and funk towards the raw sounds that started in the South Bronx. Out in South Central, there was no way for Broussard to see the gestating culture. No hip-hop magazines existed. Wild Style was still three years from theaters. The only visual evidence was album covers and even then, most discs came packaged in white label sleeves. It was something to be heard and re-coiffed for those with activator curls and a natural aptitude for fault line-splitting funk.
Broussard nearly became an architect. A high school drafting class scholar, he learned only as a senior that computers were about to eradicate the necessity of skillful drawing by hand. Always a quick study, within three years, he'd be producing intergalactic synthesizer orbits named "Computer Love (Sweet Dreams)" and "Computer Power."
While still in school, the Egyptian Lover shined on the parquet dance floors of the hotel parties thrown by the ascendant freak generals, Uncle Jamm's Army. He and his brother grooved in doctor's scrubs, amateur gynecologists claiming to be from Cairo and seducing girls by telling them that they were members of the Army. The actual invitation from Uncle Jamm's founder Rodger Clayton didn't come until one serendipitous day at the Fox Hills Mall in Culver City.
"My friend Snake Puppy [later of the LA Dream Team] went up to Clayton and said, 'You guys are good, but you don't have the best DJ in LA,'" Broussard says. "'If you want to have the best DJ, you need to hire him — the Egyptian Lover.'"
The stage name derived from the Old English script written on the back of the jackets that Broussard rocked around South Central. Rather than use a tough name that might elicit static in his heavily Crip hood, he purposely selected an exotic playboy pseudonym to simultaneously deter gangsters and entice women. At the time, he'd thrown a few small hotel parties, but couldn't match the promotional clout of Uncle Jamm's Army, whose only real rival was the World Class Wreckin' Cru.
"When [Clayton] found out I was a DJ, he was like, 'Come with me.' They were on their way to the studio to record a KDAY commercial for the next dance," Broussard says. "I got on the turntables and started scratching and he was like, 'What's that? That's nice. Do it on the commercial.' So I scratched to a Zapp record and blew everyone's minds."
Scratching was so new that not even Clayton had heard of it. The only people in LA aware of Grand Wizard Theodore's discovery were in the Wreckin' Cru, and they only knew because Kurtis Blow's DJ had taught it to them on a West Coast visit. The Egyptian Lover picked it up by ear from the cuts on "The Adventures of Grandmaster Flash on the Wheels of Steel."
The amoebic broth of early '80s LA hip-hop featured other gifted pioneers. Disco Daddy was the first major MC to earn wide recognition. Mixmaster Spade and Toddy Tee held things down in Compton and Long Beach. Ice-T and Afrika Islam ruled Radiotron in MacArthur Park — the latter teaching Egyptian Lover about the 808, the drum machine that his mentor Afrika Bambaataa had used for "Planet Rock."
The introduction of Broussard to the scene was ultimately like Chuck Berry to rock and roll: it thrust open a realm of sonic possibilities and induced a collective "what's-he-doing-and-how-can-I-steal-that?" awe among his peers.
"At my first Uncle Jamm's party, they decided to have a DJ contest with all new DJs, and I was scared because I'd never played in front of such a large crowd," Broussard recalls of the first night he set it off in 1982. In an attempt to flummox the rookie, some knucklehead hazer gave him Aretha Franklin's "Jump To It."
"It was a terrible record to party to and I'd never heard it before," the Lover laughs. But by separating the a cappella, starting the record over, and using lightning reflexes to isolate and repeat the phrase, "Jump to it," he stunned the audience with turntable sorcery.
"I looked at the crowd and no one was dancing, and I was like, 'Damn, did I mess up?'" Egyptian Lover added. "But then they started clapping and screaming and standing on tables. They were going berserk and Uncle Jamm ran from the front of the club to see what was going on."
Even more absurd was that this was the first time he'd ever mixed with two turntables. All previous practice sessions had been at home in the bedroom of his parents' house with one record player and a tape deck.
"It was a like a stunt driver driving a Ford Pinto his whole life and then getting into a Ferrari and being like, 'I can do anything in this car,'" he says.
The 0-60 acceleration of his career immediately mirrored the velocity of an Italian sports car. His "Dial-A-Freak" single, full of filthy 1-900 raps, became the first major local hip-hop hit played on the hour at KDAY. In fact, the legendary station's programmer Greg Mack stole entire playlists by attending Uncle Jamm's parties and surreptitiously jotting down every song that played.
Throughout '83-'85, the Egyptian Lover was regnant, stunting in various capes and costumes. He scored the Breakin' and Entering soundtrack, the ultra-rare and highly coveted record that accompanied the first film ever made about LA hip-hop culture.
Sometimes he was seen swarthy, hirsute, and sweat-suited, while being chauffeured conducting business on a car phone brick. As for the defining image of the electro hip-hop era, it might be the cover of his classic debut, 1984's On the Nile.
If you've seen it, the image is already seared into your synapses. Egyptian Lover gazes seductively into the camera as though to say, "Don't bring your girl around me unless your game is tight and you trust her," pre-dating R. Kelly's "I'm a Flirt" admonition by two decades.
His curls are wavy as a young Prince, slightly wet with Good Fred Oil from the La Rutan barbershop on 54th and Western, the same place frequented by Richard Pryor and Al Green. Underneath his black jacket is a white dress shirt unbuttoned nearly to the navel, his chest hair sprouting like mushrooms after a rain. He is the model of cocky self-assurance, the rap game equivalent of Mediterranean royalty, exercising his seigniorial rights upon every freak from Alhambra to the Aswan Dam.
'84 was the zenith. The Egyptian Lover's live shows achieved the sort of ecstatic devotion usually reserved for his chief inspirations, Prince and Kraftwerk. By fusing those two and adding space age South Central funk, Broussard defined West Coast hip-hop during the first half of the Reagan era.
His influence was ubiquitous on most local hits that preceded Ice-T's "6 in the Mornin'" and N.W.A. There was the World Class Wreckin' Cru's "Surgery," which mimics the sex robot physician sheen already established by the Lover's funkiest production. The Dream Team's "Dream Team is in the House" re-traces freak beats already hit by Broussard. Even the Arabian Prince, who later produced some of N.W.A's. first singles, got his name from hanging around legendary roller rink World on Wheels with the already famous Egyptian Lover.
Then there's the lesser known but no less monumental shadow cast outside of KDAY's signal reach. When Run-DMC came to LA to open up for Uncle Jamm's Army, the Lover taught Jam Master Jay how to loop his trademark "Run-Run-Run" effect. In 1985, a little-known Miami promoter named Luther Campbell booked Broussard for his first South Florida show.
"Egypt Egypt" was the first bass record in Miami. "The Macola distributors sent promo copies all over the South and it caught fire," Broussard says. "At that Miami show, I played my 808 on the breakdowns and Luke was wowed. The next group he booked was 2 Live Crew, and they'd been watching me for a long time. They took what I was doing, mixed it with their own style, and moved to Miami."
Seizing the opportunity, Broussard founded his Egyptian Empire record label to release both his own music and other acts. In 1987, they pressed Rodney O & Joe Cooley's "Everlasting Bass," which became an LA anthem and one of the biblical documents of Southern bass music.
When the sinuous attack of gangsta rap ushered in a leaden non-danceable aesthetic, the Egyptian Lover spent much of the next decade in Louisiana, playing sold-out shows everywhere from New Orleans to country juke joints. He released records in 1994 and 2006, but mostly spread the 808 electro-gospel at live shows across the globe. At the moment, he's prepping the release of 1984, a tribute to that Olympian year using the same recording techniques and equipment that initially won him the scepter: the Roland 808, the Jupiter 8 with the Roland Vocoder, the SH-101.
The songs on this anthology are most culled from '83 to '88, but these aren't artifacts. They're testament to the legacy of one of the most important producers of West Coast and Southern hip-hop, dance music and funk. He is to LA what Juan Atkins is to Detroit, a pioneer whose DNA is permanently diffused into the native gene pool. But more importantly, these songs fulfill their original function. They are nitroglycerin for freaks, guaranteed to cause sweaty grinding on dance floors until the Sphinx crumbles into the sand.
TRACK LIST:
1. Egyptian Lover Theme
2. Spray It Super AJ
3. Dial-A-Freak
4. Yes, Yes, Yes
5. Egypt, Egypt
6. What Is A DJ If He Can't Scratch
7. And My Beat Goes Boom
8. Girls
9. I Cry (Night After Night)
10. Ultimate Scratch
11. My House (On the Nile)
12. Electric Encounter
13. Computer Love
14. Voices
15. Computer Power
16. Dance (Dub Mix)
17. You're So Fine
18. Kinky Nation
19. Freak-A-Holic
20. The Alezby Inn
21. Sexy Style
22. I Need A Freak