From Benny Sings' album Young Hearts, the new song "Pyjamas", a bossa nova-inspired song featuring Remi Wolf. Remi also directed the video, bringing the song's characters – a man with a low libido and his partner who wants more – to life. Young Hearts was produced with Kenny Beats and is out March 24th.
Pre-order Vinyl – Benny Sings – Young Hearts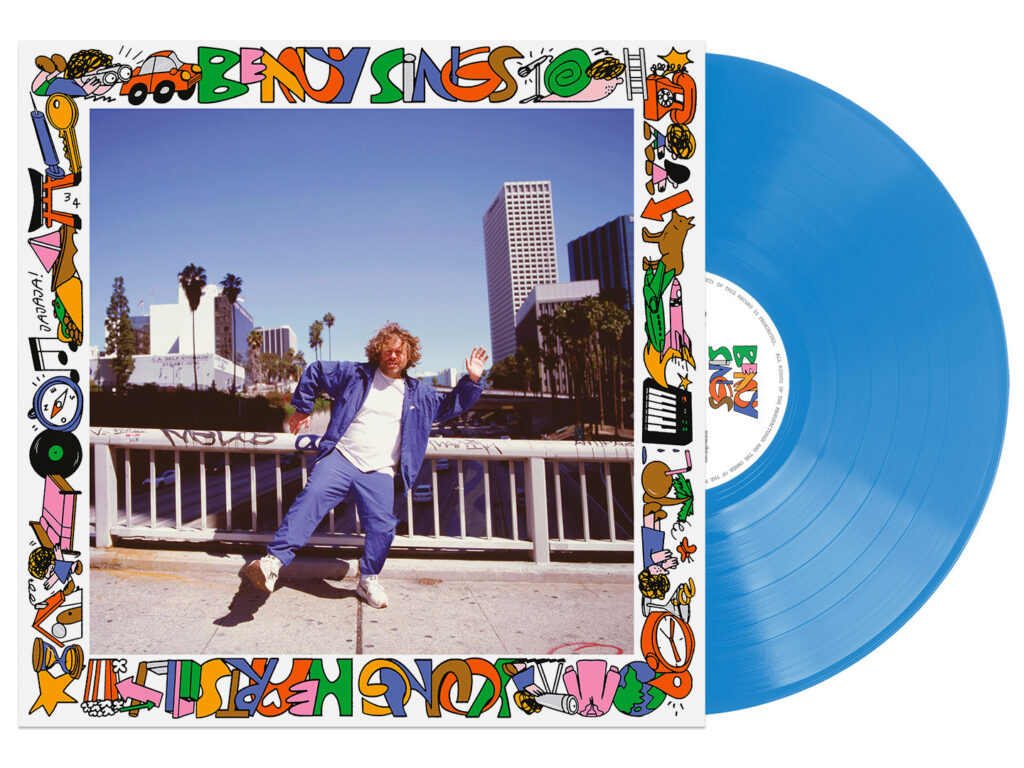 Young Hearts is Benny's eighth album but marks the first time in his career where he's collaborated with a single producer in the studio for the entirety of the record. "Kenny is so honest that he's not scared to brag," Benny says. His reason for searching outward for collaboration centered around his want to make an album that sounded bigger than any previous project he's created. "I can give you that extra slap," Kenny reassured him early on in the recording process.
On Young Hearts Benny creates a fictional cast of "lovable losers." "I'm always looking for the anti-hero," Benny says about "Pyjamas". "One of the subjects that hasn't been sung about too much is the male with too low libido, instead of too high. We all know the 'I can't get no satisfaction' take on things. Just seems funny to me to turn that around, a duet where the girl wants to roll around in the hay, and the boy is nervously trying to avoid the question on hand. 'We could take a walk on the beach… Read a book maybe?'
"I've always loved bossa nova. I've listened to Getz/Gilberto by João Gilberto and Stan Getz over a million times in my life," Benny says. "This music is light, yet profound, and I love it. So to pay homage to this music on "Pyjamas", together with Kenny's crazy drums, is a thrill for me."
Benny will be going on tour at the end of March, stopping in Amsterdam, London, Paris, Berlin and Rotterdam. Catch him on Twitch for his "Benny Talks" series, too. His next episode airs March 9th at 1pm PST/ 4pm EST/ 10pm CET.
Benny Tours:
March 24: Trax, Roeselare
March 25: Paradiso, Amsterdam [sold out]
March 28: KOKO, London
March 29: Le Trianon, Paris
March 30: Lido, Berlin
April 5: Tivoli Vredenburg, Utrecht [sold out]
April 6: Maassilo, Rotterdam
July 9: North Sea Jazz, Rotterdam