This is an excerpt from Rappers flow toward singing by Jeff Weiss, published in the Los Angeles Times November 14, 2010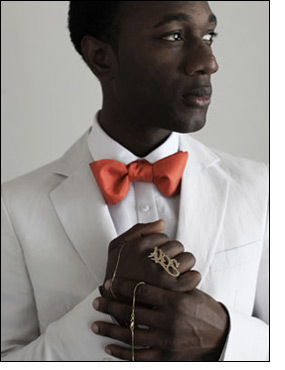 A change wasn't going to come. By 2005, Aloe Blacc's decade in hip-hop had begun to yield diminishing returns. Though the Orange County-raised rapper had earned underground respect, the genre increasingly favored flamboyant eccentrics like Kanye West and Lil Wayne. Avenues for expansion were scarce — especially for a USC graduate whose press biography touts a love of transcendentalism and French existentialism.
"I grew up break dancing and rapping, but hip-hop no longer spoke to me the way it had when I was younger. After years of rhyming thousands of words, I realized that I hadn't really said much," said the 31-year old, who had previously recorded as one half of the duo Emanon.
With megalithic personalities like 50 Cent, Eminem and West monopolizing the radio and the underground boom fizzling, there were few outlets for the sort of socially aware narratives that Blacc yearned to tell. At a crossroads, Blacc delved into the discographies of Joni Mitchell, Nina Simone, Donny Hathaway and John Lennon. Gradually, his perspective diverged from writing raps to composing melodies.
Shortly after first testing his alluvial baritone on wax, Stones Throw label head Chris Manak, known in the beat world as Peanut Butter Wolf, heard one of Blacc's silken performances. Instantly sold, he offered Blacc a contract for the 2006 full-length Shine Through.
Blacc's not the only one blurring the line between singing and rapping. In fact, over the last decade, hip-hop has gradually shifted away from the asphalt assault of hard-core '90s rap toward more melodic, tuneful fare.
…
No small label better signifies this shift than Stones Throw. Releasing contemporary jazz, soul and funk records, its output expanded to include anything with a deep groove.
"At first my distributor discouraged me, pointing out past rock labels that had put out hip-hop records and telling me why that wouldn't work," Manak said. "But lately, our biggest artists have been guys like Dam-Funk, Mayer Hawthorne and [Blacc], who have gotten attention without rapping. Hip-hop will never die, but the more traditional form of hip-hop has become very specialized."
Unlike many of his peers, Manak anticipated the shift, adding that he'd even asked the influential late producer-rapper J Dilla to do an album with sung vocals. "He looked at me like I was crazy," Manak said with a laugh.
But Manak has been rewarded for his foresight. Galvanized by the placement of the soulful zeitgeist-mainlining "I Need a Dollar" on the HBO series "How to Make It in America," Blacc's singing career has soared, especially in Europe, with his sophomore full-length, September's Good Things, topping the charts in France and Belgium, and cracking the Top 10 in Germany.
Blacc's artistic evolution was partly attributable to a value shift, but Mayer Hawthorne (born Andrew Cohen) arrived at his style by serendipity. A rapper, DJ and producer, he decided to sing because sampling other artists was prohibitively expensive. With the intent of using it for his own sample purposes, the Ann Arbor, Mich.-raised, L.A.-based artist recorded a rough demo, which made its way to the encyclopedic Manak, who initially thought the material was vintage Midwest soul. He learned otherwise, and offered Hawthorne a deal to release "Just Ain't Gonna Work Out" as a single. Striving to split the difference between Smokey Robinson and J Dilla, the limited-edition 1,000-copy run sold out within 48 hours.
A decade after releasing his first record, last year's acclaimed full-length A Strange Arrangement allowed Hawthorne to realize every artist's dream: quitting his day job to pursue music. He's since become a favorite of rappers including Ghostface Killah and Snoop Dogg.
"I still love rap as much as ever and always play it when I DJ," Hawthorne said. "I moved to L.A. to make hip-hop and things took off in a different direction."
READ FULL ARTICLE
LATIMES.COM: RAPPERS FLOW TOWARD SINGING
…
www.stonesthrow.com/aloeblacc
www.stonesthrow.com/mayerhawthorne