This is an excerpt from Can A Nerd Have Soul? by Rob Hoerburger, published in The New York Times, November 11, 2010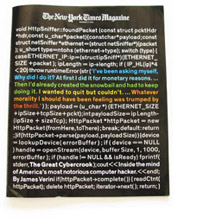 THE SINGER Mayer Hawthorne was born almost 13 years after the Supremes' Motown classic "You Can't Hurry Love" first lit up radio waves and dance floors. He was a toddler when the song's bass line, maybe the most famous in the history of pop-and-soul music, was amplified and repackaged as the basis of Daryl Hall and John Oates's No. 1 hit "Maneater"; it was also suited up and sent back into action by the likes of the Clash, Katrina and the Waves and even other Motown artists. Something about those repeated eight notes — originally played by the Motown house bassist James Jamerson in 1966 as if small shocks were being delivered to his index finger — continued to evoke, across a span of decades, the tachycardic rush of new love or lust.
By the time Hawthorne caught up to those eight notes in "Your Easy Lovin' Ain't Pleasin' Nothin'," a song from his album, "A Strange Arrangement," though, they seemed to be just that: notes. They weren't jacked up, minced, diced, reassembled, reduced, infused, technofied, processed, irony-dredged or in any other way commented upon. It was as if the last 20 or 30 or 40 years of pop music hadn't happened. The by-now overfamiliar rhythm was simply attached to a catchy but somewhat routine song, on an album that seemed full of soul boilerplate, including even a song title ("I Wish It Would Rain") used first by the Temptations. There have been plenty of singular soul sensations in recent years — John Legend, Sharon Jones and the Dap-Kings, Amy Winehouse, Ryan Shaw, Raphael Saadiq, Cee Lo Green; but they all added something to their references, even if it was the equivalent of a musical condiment. Hawthorne seemed to be more of a soul literalist. And to judge from the cover of his album, on which the buttoned-up Hawthorne peers out from behind severely dorky horn-rimmed glasses, it seemed possible that he might also be a soul parodist.
But then the album started being praised on soul blogs and played on soul radio, alongside tracks by soul's old masters. The rapper Snoop Dogg liked the album so much that he invited Hawthorne to appear in one of his videos, and Kanye West praised it in a Twitter post. And suddenly Hawthorne found himself at the head of a cadre of young soul artists, most around 30 years old, many of them nerdy white guys, who were sidestepping or in some cases abandoning the most dominant music of the last 20 years, hip-hop, in favor of basic, traditional soul — pinpoint harmony, sophisticated songcraft, serious vocal or playing chops — and creating the equivalent of a farm-to-turntable groove. What was even more notable was that these artists — Hawthorne, Eli (Paperboy) Reed, Kings Go Forth, Aloe Blacc, Jamie Lidell, Fitz and the Tantrums, Soul Track Mind, among others — were claiming this music as their own and their own generation's. And raising the questions, Is this a real movement, or just another extended retro moment? And, Where was all this new old soul, and the young old souls who make it, coming from?
Culver City, near where Mayer Hawthorne lives, has become a hipsterish enclave west of downtown Los Angeles, particularly the blocks near the landmark Culver Hotel, a Flatiron Building-like wedge structure where the Munchkins stayed during the filming of "The Wizard of Oz." Waifish, tattooed bodies and skateboards float by trendy restaurants and clubs; it's kind of like Williamsburg, Brooklyn, at half-speed. When Hawthorne, who is 31, rolled up on his skateboard to Tender Greens, the 'hood's leafy eatery, on a weekday in late August, he appropriately seemed to half-belong: the red-leather Air Jordans slightly incongruous with the blue-and-green (and ironed) plaid button-down and stockbroker's haircut. He did look as if he might have spent the summer in the sun, but only if you consider that until this brief Beach Boys stretch of days, Southern California experienced one of its coolest, grayest summers in recent history.
"Oh, you know, it's all about keeping it flashy but classy," Hawthorne said as he tucked into his steak salad. And though he was talking about his fashion sense, the statement suits his music just as well. After a few listens, "A Strange Arrangement" starts to feel like a musical tail wind. For every obvious Motown reference, there are smart, less-overt nods to '60s soul signposts like the Intruders' "Cowboys to Girls" and the Esquires' "Get on Up." The album coheres by way of Hawthorne's voice, a down-and-clean tenor, which he can knead into an imperfect falsetto that gets him close to Smokey Robinson-Eddie Kendricks territory.
And it all started on a lark. At the end of 2008, after some attempts at a hip-hop career, he wrote and recorded a couple of soul tracks, with the intention of sampling them for a hip-hop project. "I really love rap music," he said. "I grew up in the '80s and '90s with Public Enemy, N.W.A., LL Cool J. I'm a hip-hop encyclopedia. But I got kind of frustrated with the chauvinistic side of rap music, the one that makes it hard to write songs about love and relationships. I think all those songs were just building up over time, and I couldn't get 'em out making hip-hop music."
After Hawthorne recorded those two tracks, his record company's president sent over a contract for an entire album — an entire soul album. Hawthorne said he thought it must have been a mistake. Not because he was a white middle-class Jewish guy — Hawthorne's real name is Andrew Mayer Cohen, Drew to his friends — and felt he didn't know the music, but because he knew the music too well. He grew up outside Detroit and was spoon-fed Motown by a musician father who went to a mostly black high school in the '60s. Suddenly Hawthorne was being asked to build on hallowed ground where family monuments — Robinson, Diana Ross, Marvin Gaye — stood. "It was never in my game plan to record an album of soul music," he said. "I didn't know how I was going to do it. I didn't even know what Mayer Hawthorne was. It was just a funny name I made up, a porn-star name. There was no such thing as Mayer Hawthorne."
Peanut Butter Wolf (real name: Chris Manak), the boyish 41-year-old president of Hawthorne's label, Stones Throw, told me that some of Hawthorne's initial vocals were recorded slow, "like Barry White," almost as if he were treating them as a novelty. "That way," Wolf said, "if people didn't like it, he could say it was a joke." Then Hawthorne started taking the project more seriously, and when the album came out, "the reaction was such a nice surprise," Wolf said. "It was a breath of fresh air." After the release, Hawthorne tracked the songs that garnered the most downloads and was surprised to find that one of the most popular was a fairly standard love song called "Make Her Mine." "No one could really give me a good answer why," he said. "Finally I asked a female friend, and she said: 'I know exactly why: the words are so sweet. Every girl wants somebody to write a song about them like that.' "
Yet even if the point of A Strange Arrangement is to prove that the instant-everything generation appreciates standards, chivalry and romance, the easiest way to get Hawthorne's fork jabbing in the air is to suggest that his music is retro. "I hate it when people say, Let's take it back to the good old days," he said. "Screw that. Smokey Robinson wasn't saying that when he was making his songs. Run-DMC wasn't trying to take it back. They were trying to do something new and different, something exciting. I don't want kids listening to my music thinking it's for their parents. I want them to feel it's theirs. I wasn't even alive when all those soul records were made." Hawthorne argues that his drums, for instance, have a modern, beefy sound — "J Dilla drums," he said, referring to a hip-hop hero. But unlike in hip-hop tracks, they're not the focal point. It's the tunefulness and the romantic lyrics that are the reasons a few of his fans have walked down the aisle to his song "Shiny and New."
A Strange Arrangement has sold 40,000 copies to date, 1,500 of that total in vinyl LPs, and while there's clearly potential for it to expand its audience, he is already deep into writing and recording his next album, which he said would be more "Beatles-y." Yet when I went to visit Hawthorne at his home the next day, it was soul-centric. The focal points of the condo duplex, other than the pinball machine in the foyer and the wall of sneakers, all individually boxed and cubbyholed, were the huge framed poster of the Supremes in his living room and a pile of vinyl soul singles near the recording console in his bedroom. The vinyl fetish of hipstery white guys is old news, but soul obsessives take it to the next format: the 45. Among Hawthorne's sacred stack were some obvious hits by Stevie Wonder and Marvin Gaye and less-obvious songs by artists like the Fantastic Four. Hawthorne didn't play any of the 45s, but he did lay hands on them, as if they were a talisman for him of a style that speaks to his Motor City roots. And of a listenership that has accepted his affection and facility for soul. "Everybody comments that I'm white," he said. "I'm surprised I haven't gotten more criticism for it. I'm always expecting any day now it's gonna come. I guess I just attribute the lack of hate to people hearing the music and hearing how much I genuinely love it." He flipped through the stack and found a copy of his favorite soul "joint," "Why Can't There Be Love," sung by Dee Edwards and written by Hermon Weems, a Detroit legend who died in June. Hawthorne was able to play some of "A Strange Arrangement" for Weems when it was in the demo stages. "He got up and started dancing in the living room," Hawthorne said. "He was loving it. That's the moment I knew I was getting it right. I thought, This is Hermon Weems. . . . If he doesn't care if I'm white, then I don't care what anybody else thinks about it."
…
Of all the artists I talked to, the one who most owned up to his music's vintage was Aloe Blacc, whose song "I Need a Dollar," from his album, Good Things, has become a chant of the new recession. Blacc (real name: Egbert Nathaniel Dawkins III), who is 31, writes like Gil-Scott Heron (pointed social barbs) and sings like Bill Withers (slightly-rusted-weather-vane wisdom). "Call it whatever you want," he said. "I didn't make this stuff up; there's no way I could have done this on my own."
Blacc, who like Hawthorne has put aside hip-hop for now, says that the question of new versus old misses the argument this music is making. "Perhaps the reason soul music is relevant in 2010 is that it's timeless," he said. "You can't put a date on it. The reason it's not prevalent is that the music industry is pushing junk down our throats. It's McDonald's every day. People are hungering for solid food."
READ FULL ARTICLE
NYTIMES.COM: CAN A NERD HAVE SOUL?
…
www.stonesthrow.com/aloeblacc
www.stonesthrow.com/mayerhawthorne