In the store | J Dilla – Ruff Draft
"Before we get this started, let me explain it. It's Ruff Draft. For my real niggaz only. DJs that play that real live shit. You wanna bounce in your whip with that real live shit. Sound like it's straight from the ma'fuckin' cassette! Ruff Draft… Let's do it."
… Thus begins Ruff Draft. These self-produced tracks make up one of the late J Dilla's least known works. Released on vinyl only in February 2003 by Dilla's own newly-formed Mummy Records and distributed by the German label Groove Attack, this sought-after release remains elusive and virtually unknown to the casual Dilla fan.
In retrospect, Ruff Draft proved to mark a turning point in Dilla's career. He spent the '90s making a name for himself as an all-around, top-notch hip-hop producer. First arriving on the scene with his own group Slum Village in his native Detroit, Dilla would establish himself throughout the decade on classic tracks for A Tribe Called Quest, Common, The Pharcyde and De La Soul, eventually branching out to work with a variety of heavy-hitters in hip-hop and R&B, from Busta Rhymes and The Roots to D'Angelo and Erykah Badu.
In contrast to the often understated, mellow vibes and minimal, crisp drumbeats he brought to the boards for those groups, Ruff Draft revealed – to those who heard it the first time around – a whole new side to Dilla's musical genius. Freewheeling, in-your-face synthesizers, blend perfectly with an uncharacteristically sample-heavy approach that was as bangin' as it was experimental. And, as he indicated in the intro to the album (quoted above), it's supposed to bump in your car like an old cassette – one of those well-loved ones that get played over and over and over.
This album marked a geographical change for Dilla, as well as a musical one. 2003 would be the year he transplanted to sunny Southern California. At the same time as he was completing Ruff Draft, Dilla was crafting the beats that would become his contribution to the Jaylib album, Champion Sound (Stones Throw, 2003) – his collaboration with the L.A.-based Madlib. The two iconic visionaries had been influencing each other from halfway across the country; now, they were collaborating on wax – each rhyming over the other's beats. Dilla's stylistic unpredictability and technical rawness announced first by Ruff Draft became undeniable with his work on Champion Sound, as he and Madlib joined forces to champion all things "ruff."
Dilla would spend his last few years in Los Angeles. As his health gradually declined, his pace of music making never did. His beats became, if anything, more urgent – the product of a visceral need to create, as if he knew he had only so much time left. His first and only solo LP on Stones Throw, the 31-track instrumental suite Donuts (2006) plays out like a vinyl fanatic skipping through radio stations on the dial in his perfect universe. With a fresh style from one beat to the next, Dilla conceived this cut-and-paste masterpiece mostly from his hospital bed with nothing more than his sampler, a portable record player and whatever vinyl his friends brought through. Coming full circle from his slick productions of the '90s, Dilla was now practicing hip-hop at its most essential: bringing out the soul in any style, from any source, with the most fundamental tools.
Dilla's final album, The Shining (BBE, 2006), hints at the future music that might have come had his health not declined so severely. The sound is thick, with robust soul samples at the forefront, the culmination of the bombastic latter phase of his career. Stones Throw Records now presents the reissue of Ruff Draft as a crucial milestone in the evolution of one of hip-hop's greatest producers.
Reissue notes: Stones Throw's edition of Ruff Draft (2007) contained audio taken from the original master tapes, along with previously unreleased outtakes, all of which was mastered in 2007. Examining the Ruff Draft masters revealed that the 2003 EP had been pressed from an unmastered source, possibly in error. A subsequently discovered mix of the album was issued by the James Yancey Estate in 2018.
Scroll below for Ruff Draft liner notes by Ronnie Reese.
Photo: J Dilla, Michigan, 2001, by Peanut Butter Wolf.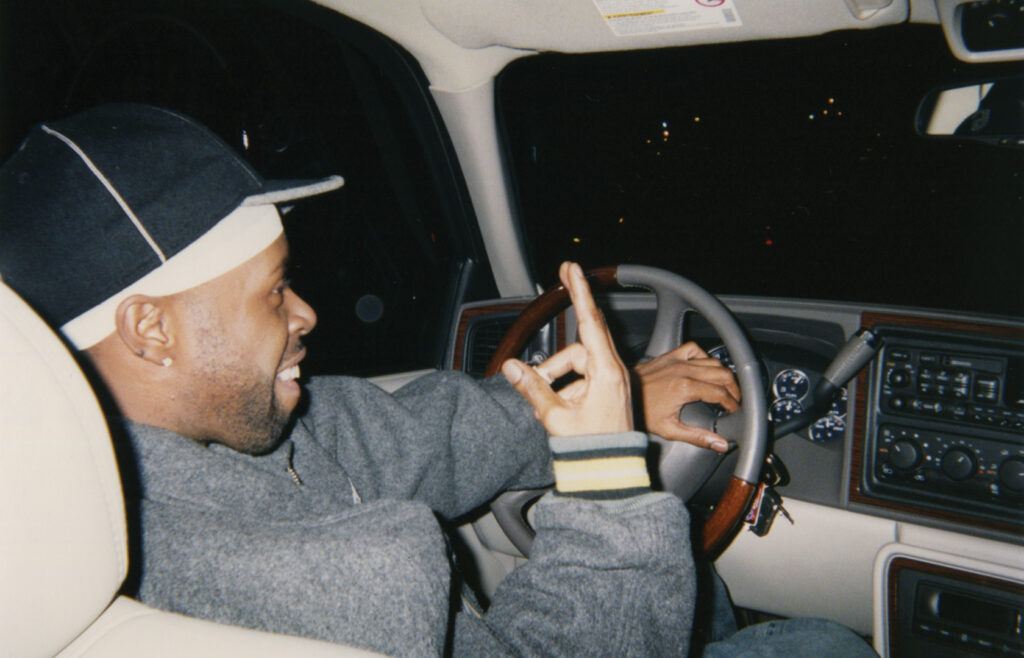 —
Prior to recording Ruff Draft in late 2002, Dilla found himself at a crossroads. Estranged from his label, MCA, and separated from the mother of his youngest daughter, frustration abounded both personally and professionally.
Dilla spent the better part of 2002 working on an album for MCA that featured his rapping over contributions from other producers with whom he had connected and whose music he respected. At the time, he was known primarily for his beats, yet reviled for his MCing by most anyone not from his hometown of Detroit. The project was to be an intentional freak of the industry.
"That would have been his defi ning moment," says Dilla historian DJ House Shoes, who released the Jay Dee Unreleased Remixes EP and "Dedication to the Suckers" 12-inch with Phat Kat on House Shoes Records in 1997 and 1999, respectively. "Everyone was fronting on his lyrics," Shoes recalls. "I remember reading a Slum Village review that said Jay Dee was the worst rapping producer ever. I wanted to go down to that magazine's offi ce and shoot the shit out of it."
Dilla had agreed to a one-year contract on MCA with an option for a second, provided he produced two accepted releases. One of those releases was to be his solo project, and the other a full-length entitled 48 Hours from Detroit rappers and childhood friends, Frank N Dank. While Dilla worked on the music, MCA suffered from internal problems that neither Dilla nor Frank N Dank knew anything about, with staffers everywhere either jumping ship or getting thrown overboard. After the departure of A&R maverick Wendy Goldstein to Capitol, MCA folded into Geffen at the end of 2003.
Without Goldstein to run interference on the business end, MCA artists such as Dilla, the Roots and Common found it difficult to maximize their potential. The label brass had no idea what to do with an album from a producer who wanted to rap, or another featuring the two (then) no-name MCs he put on. Both 48 Hours and the Dilla solo LP subsequently languished in hip-hop purgatory.
While waiting on MCA, Dilla began recording the Ruff Draft EP at his home in the De-troit suburb of Clinton Township. If taken as what the title suggests, a rough draft, it is important to remember that the album came after a decade of experience in the music business. Dilla had paid his dues as an apprentice, made money, spent money, and already reinvented himself at least three times, with each advancing configuration more innovative than the last. From 1993 through 2002, a master producer evolved – pause-and-record production, Slum, beat tapes, bootlegs, remixes, Labcabincalifornia, Busta, "Got 'Til It's Gone," Voodoo, Badu, The Love Movement, "Let's Ride," "Dynamite," Like Water for Chocolate, Welcome 2 Detroit. The potential Dilla possessed by 2003 made him nearly extraterrestrial. "He's our Morpheus," says original Slum Village partner Baatin, with sincerity.
Dilla had long wanted a gully, more street-oriented edge to his music, even as a member of Slum Village; but during that time, neither Baatin nor T3 engaged in the lifestyle he was living. Ruff Draft presented that opportunity. "Another beautiful example of Jay doing whatever Jay wants to do," House Shoes explains. Lyrically, the usual Dilla themes appear – biters, haters, clones, bitch-ass niggas, nigga-ass bitches. But overall, an entirely new sound took shape, the "ruff" outline of which could only have been conceived by one maverick producer.
Ruff Draft served as a declaration of independence from an artist ten years into his career – an artist still cloaked in rookie hunger and ambition. Re-introducing us to a brave new voice, Dilla showed us a man willing to roll the dice and take the chances that industrialized artists fail to take.
Common's Electric Circus – the last project of note to which Dilla contributed prior to Ruff Draft – marked a wild musical departure for Common as a rapper, with its left-fi eld, electro-soul excursions. According to those involved in the sessions, it was Dilla who pushed the proceedings in directions that only he dared. "One time we were in the studio and didn't have a drum machine, and he went inside the booth and played the drums on his body," recalls keyboardist James Poyser, a frequent recording partner. "He knew how to EQ it right and everything, like, 'Okay, he just made a song using his body.' [laughs] It was serious."
For those in the know, Dilla was That Nigga, and a good number of loyalists, insiders and top-flight musicians considered themselves enlightened. But no one ever made a living with albums sitting on shelves like his MCA work, so he went the DIY route and founded Mummy Records along with ace boons, Frank N Dank. After securing distribution with Groove Attack in Germany, the new label issued its first release: Frank N Dank's seldom-seen Push maxi-single. As Frank tells it, "We just banged that shit out. Dank came up with the name ['Mummy']. It explained how you felt after smokin' a shitload of blunts!"
Blunt smoke was just the beginning. As Dilla said himself on Ruff Draft's introduction, he intended the EP for "my real niggas only" – his trife, tip-drillin', Errol Flynn hustlers that "wanna bounce in your whip with that real live shit." "It was an acquired taste," according to producer and Slum Village DJ, Dez. Something for the streets and die-hards. "It wasn't for anyone that didn't really mess with him."
Ruff Draft represented the best of Dilla's dirty work, its analog haze recalling a time when most producers toiled like mad scientists in their basements and garages. Dilla was, at his core, a treasure from that era. For him, the EP provided "stuff for me to drive around and listen to…I was just doing me," he would tell Rime magazine in 2003. What the album and its "straight from the muh'fuckin' cassette" concept became, was a vintage-sounding, yet experimental outing that marked Dilla's return to the minor leagues. In a sense, Ruff Draft bridged the gap between Electric Circus (MCA, Dec. 2002) and Champion Sound (Stones Throw, Oct. 2003) as one-half of Jaylib, with kindred Los Angeles producer, Madlib.
"No one was fucking with Jay at that time," partner and touring DJ, J.Rocc, remembers. "There was Busta Rhymes and Common, and De La, but from the end of 2002 through 2003, if you look at his discography, there's nothing but independent shit. He went back to his roots, basically. He went 360."
– Ronnie Reese, 2006