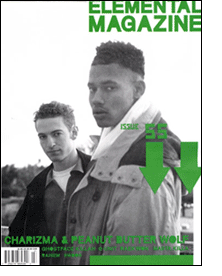 Lay the needle on "Methods" (STH2001), clear your head and take a seat. Step backwards in time as the looped dust joins hands with that gentle push of an organ. They just don't make singles this discreet these days. Sure, Peanut Butter Wolf could have chosen something else as his newborn label's premiere single, perhaps something from the standoutishness of an Encore, or then 50 Grand (Grand The Visitor) featured on his Wolf's Step On Our Egos EP on South Paw Records. But he didn't. He followed his commitment to Charizma – friend and partner – because the character of this artist was something else.
Rap is so strong and rap is so def – Andre The Giant's zigga-drop stated by the former DJ Chris Cut couldn't sound anymore profound than it does as it spins the table today. He opens, "Rap battles, I saw MCs going at it, crews playing new records, I arrive and cause static. From Frisco to Oakland, like Bronx to Manhattan." Charles "Charizma" Hicks, a suburban-showstopper, a parkside hotstepper, and the common denominator behind today's steadfast powerhouse imprint – Stones Throw Records.
Cut from a shroud of MC Shan inflections, Charizma's namesake has floated about record stores athwart the map for some 8 years now. A legend made before his approaching fans even could meet him. For in December of 1993 Charles "Charizma" Hicks was shot and killed while in his car around the nay-pleasant section of East Palo Alto, California. On the precipice, he was about to meet his eminence in music – at only 20 years old.
Milpitas, a small town by San Jose restlessly sat aside the county's jail, just min- utes worth of interstate miles South was San Jose. Famous for its Silicon, Californian hockey and a funny little venue called The Cactus Club, where you could take in an early show and still get pummeled by the easily-provoked door men. In the late '80s the South Bay Area found suburban teenage rap angst at an all time high – Chris "Cut" Manak (later identified as Peanut Butter Wolf by a then- girlfriend's imaginative little brother, only to be dared by Hicks into keeping the name) was in its unassuming epicenter. Meanwhile, from the neighboring Mmlpmtas, there arose a younger star, Charizma.
At age 15, Charizma, then Charlie C, was introduced to Manak ("We literally lived a mile and half away from each other" Chris calls back). Not yet known as The Wolf, he'd just released a record in 1990 producing a group called Lyrical Prophecy (PMR Records) and was slowly dominating a then petite but loyal hip-hop scene in San Jose. The two met. They vibed. They recorded. A few weeks afterward, they would go to high school buddy Jeff's house (later to be known as Jeff Jank a.k.a. Captain Funkaho, the live-in art director for Stones Throw) to use his 4-track for making demos. Flashback: see kids, back then, rap groups made demo-tapes to do what we old timers called "shopping" to the big city record labels in hopes of scor- ing that big-chip recording contract, so they too could have a video on Yo! MTV Raps and play big shot of their neighborhood and town.
Jeff Jank remembers, "It was a solid partnership from pretty early on, where they had a schedule that they stuck to. Whenever they weren't working they were at Chris' house, in his room, Charizma rapping and writing lyrics and Chris making beats."
Charizma's girlfriend of the time Marie Morales, "Charles and Chris definitely had a bond that went far beyond their working relationship, which I think only helped to make their work product that much better. Creatively, they both had an off the wall imagination and sense of humor and they kind of fed off of each other. I remember thinking …. are these guys for real?"
A few years later, they formally change their names, Jank creates their logo (the sticker you might see somewhere today) and one night on San Jose State's KSJS 90.5 FM a guy by the name of Matt Brown hears their music. He makes the call. They pass the ball. They make history.
Matt Brown wanted to be a manager and he was set to manage Charizma and Peanut Butter Wolf. Shopping is done and the Disney owned Hollywood Basic picks them up.
Most noted for their release of Organized Konfusion's (Pharaohe Monch and Prince Poetry) self-titled debut, which boasted such outstanding singles as "Fudge Pudge" (O.C.'s introduction to the world) and "Walk Into The Sun." The label also put forth interesting works from Raw Fusion (Money B and DJ Fuze of Digital Underground), Zimbabwe Legit (boasting DJ Shadow's first appearance on vinyl) and the weird Lifer's Group (an all inmate collective).
After entertaining offers from Columbia and others, the two friends aside now-manager Matt Brown ran with it. Hollywood Basic allegedly passed on deals for the likes of Cypress Hill and Naughty By Nature before snatching up the South Bay duo. Things were falling into place. They were ecstatic, and with a momentum previously built from their own home recordings (still a rarity in rap of the day) as well as a more professional fine-tuning done in local San Jose studios. They were, as the album says, Big Shots.
Money was thrown about, and as an advance of $400,000 was promised, little of it was actually seen. The two began to quickly taste the manipulation that major record labels delivered during that era – and complications came forth. Peanut Butter expands, "The stuff we wanted to do was not what Hollywood wanted. When we first got signed they kept asking us for more and more songs. After we got signed they were turning things down left and right. They were talking about bringing outside producers – but Pete Rock & CL Smooth never had outside producers, Gang Starr never did. It's like they almost liked the image (of us) more."
A promo-only cassette of the would-be single "Red Light Green Light" was released – not to mention a flexi-disc insert of "Jack The Mack" in a then key Bay Area hip-hop rag, Bomb Magazine. Then, as unforeseen as it was unimaginable, the beloved Charizma was robbed of his life, aspirations in the arts froze permanently in time.
"After Charizma died, there was a catalyst to assess what we were all doing," remembers Jank. "While Chris actually considered getting out of music and not making music at all, DJ Design (also a close friend) decided to move to Seattle, I left San Jose."
Peanut Butter's life was music and his principal-inspiration was robbed of his life, a great personal and musical loss was felt throughout the Bay.
Remembering Charizma is as sorrowful as its sweet, but the one's closest to him have the fondest enlightenment's. Prozack Turner of Foreign Legion (now signed to DreamWorks with an album in the tubes featuring production by Pete Rock amongst others) is somewhat here because of Charizma. Remembering, he states, "The first time that I ever rapped on stage was with Charizma. Him and Wolf were playing at a club in San Jose for Chris' birthday. He asked me to come up and spit some shit and when I did Wolf dropped the break to 'Peter Piper.' That night changed my life."
One of San Francisco's most consistent DJs, Stef (a.k.a. Stephanie Gardner of the long-running Vinyl Exchange), recalls a bustling Bay Area scene at the time, "There was a strong sense of unity between the artists back then, and a strong sense of family within the Bay Area hip-hop community. The Bay was recognized as a hotbed for hip-hop. It was a fun, exciting time. I remember Charizma performing at the Bomb Magazine shows at the DNA Lounge in SF He was a great performer. He'd jump on top of speakers. Peanut Butter Wolf even danced a little – I think he did The Smurf."
Prozack continues, "He was one of the few cats even doing live shows in the Bay at that time, and he and Wolf were the first friends of mine that had a 'real' record deal. There were a handful of us in the South Bay Area trying to make it happen as far as hip-hop, I remember hearing tapes of the Homeliss Derilex, Encore, Dave Dub, Charizma and Wolf before I ever became friends with them. I respected both he and Chris because they were swinging for the fence – for the home team. The thing about Charizma is that after you heard him, you remembered. His voice, his topics, his lines, you always went away with something special. He made people better rappers, and after seeing him live, he made rappers better MCs."
"For some reason the most vivid memory I have of Charles as a performer is not really of an actual performance at all, it was when he showed me a tape of one of his performances. I just remember him being so excited about showing it to me and when he watched it, you could see just how happy it made him," Morales reminiscences.
Another famed Bay Area DJ and member of Various Blends (the group that bred Rasco, originally as their dancer) Rasta Cue Tip a.k.a. Eb.F: "Charizma cut off his Cleveland Indians hat before a Bomb show, making it into a visor – drinking Martinelli's apple juice and saying 'It's gonna be the next big thing."
The signature favorite drink of his was Martinelli's un-carbonated Apple Juice. So much so, he and Peanut Butter immortalized it in song ("Apple Juice Break") within a funky-loop right smack dab in the middle of their album. The rotund little bottle was in many ways a lot like the rapper – uncomplicated, pure, almost cleansing, he too somehow contained no concentrates, preservatives or additives of any kind.
It's debatable as to who originally revolved around Peanut Butter Wolf in crew, some say it was '408' (guess what area code that is) some might recall The Vinyl Miners. Regardless of all that, Charizma will always be closet to his heart. "When Charizma passed away I promised myself I'd never be in another group," quietly states Wolf. Carefully, he says, "for me to put it together and have it mastered was painful," the album 15 cuts strong is far from a painful listening experience. It's caked in fun. Songs like "Ice Cream Truck" and "Red Light Green Light" that may have sounded dated on a few years ago now feel timeless, sent from a time in hip-hop forgotten soon after it was made conventional. Ever so understated, Wolf completes his sentence, "…but a lot of fun too."
Marie Morales persists "I know that Charles would be proud of Chris for all the accomplishments he has achieved in his career and with Stones Throw and he would be so extremely happy to see the release of this album. They both put a lot time, effort and themselves into their music. I'm glad and grateful that Chris was finally able to get it out."
Yet the difficulty is still there, the honest homage will hopefully be received not in vain, The Wolf considers the challenges, "The hardest thing about me releasing it is that I have (his) mom's full blessing. I didn't want it to come out and bring any pain to her or to think of what could have happened. That's part of the reason why it's taken me so long to release it."
What did happen is Big Shots. What it does do is capture a 3-year moment in time, for two kids from the suburbs whose dreams literally became a reality. Just for a flash they were the neighborhood superstars, electric on stage and constant in the studio. Ending so jarringly in tragedy – a body of work once stalled by a failed record label, only to be protected for 10 years from the harsh winds of an ever changing industry and culture, is now the stone that one of hip-hop's greatest labels of its generation was built on. The time capsule that our class gets to open up and contemplate. A peek not only into the musical lives of two cats who presumably made it but a document of a change in music and culture in California and a rep- resentative seed planted in the rap superstars of today. Don't front, you all used to dance in front of the TV during YO! MTV Raps, you used to get that edge-up no matter what kind of hair you had, cop those new cassettes every Tuesday at the Mall. Remember yourself back then?