Archived from the Ego Trip's egotripland.com which went offline at some point. Interview by Brent Rollins, published December 11, 2011.
—
You could quite accurately declare, as folks frequently do, that designer Jeff Jank has been instrumental in expanding the expressive range of how indie hip-hop is visually represented. The longtime Art Director at the revered Stones Throw Records, Jank – via his wonderful album and single sleeve art for the likes of Madlib (and his myriad of incarnations, including Quasimoto and Yesterdays New Quintet), J Dilla, Dudley Perkins, et al – has exhibited as much a talent for creatively paying homage to vintage record designs as forging indelibly original ones. Buoyed by a striking image by photographer Eric Coleman, Jeff's album cover design for Madlib and kindred enigmatic spirit MF Doom's classic inaugural collab, Madvillain's Madvillany, is an essential example of one that actually beautifully bridges both categories. We recently caught up with the man to discuss the making of the LP and its cover – a process which entailed bartering, bong hits, a bomb shelter, and opportunities to perhaps frighten small children.
What was the original inspiration for the Madvillainy album cover and how did the concept evolve?
Jeff Jank: Back then, 2003, Doom didn't really have public image. Hip-hop heads knew he wore a mask, that he'd been in KMD a decade earlier, but he really was a mystery. So, I really wanted to get a shot of him on the cover, just to make a definitive Doom cover. Specifically I was thinking of a picture of this man, who happened to wear a mask for some reason, as opposed to "a picture of a mask." I don't know if the distinction would occur to anyone else, but to me it was a big deal. I mean, who the hell goes around with a metal mask, what's his story?
Eric Coleman came over with camera and film and just went to it one day. I don't remember if we had a shoot planned or if he showed up on the right day. Doom and Madlib can be elusive with photos, so this was a score. We shot them at our house, where the album was being recorded.
I was thinking of the cover for King Crimson's In the Court of the Crimson King when I was working on this photo that I zeroed in on. I use to check out that big red screaming face on the King Crimson album in my dad's vinyl [collection] when I was a little kid and it really shook me – I was actually scared looking through his vinyl. I hoped this picture of this guy with a metal mask would do the same to some other 5-year-old somewhere.
Another thing – just sort of a little inside joke of mine – was that the black and white photo [of Doom] reminded me in some way of the first Madonna album cover, just her in black and white – it said "MADONNA" and the "O" was orange. I saw the two pictures side by side and laughed at it like it was some rap version of Beauty & the Beast. So I put a little piece of orange up in the corner, partly because it needed something distinctive, and partly to match the color with Madonna.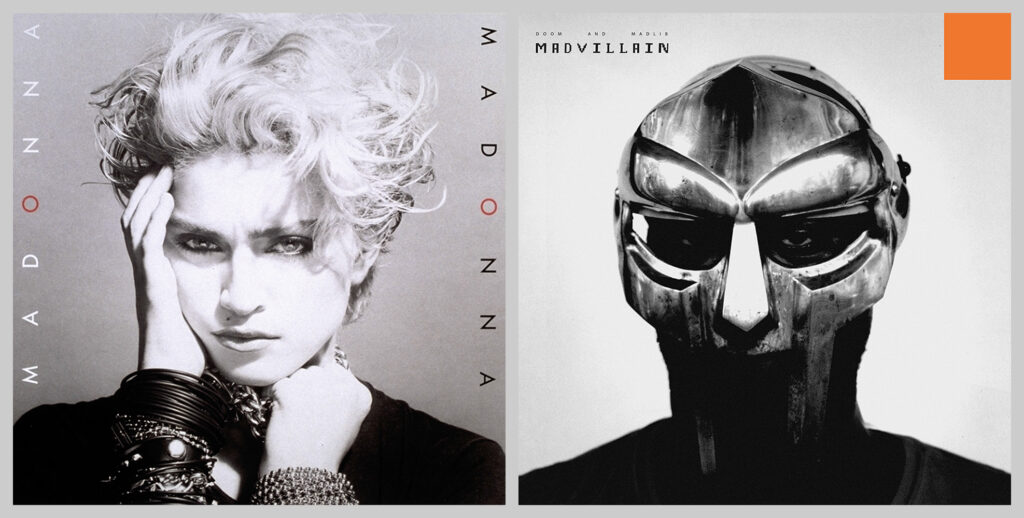 Describe what the environment of working at Stones Throw was like at the time. You guys were all living together in the same house, correct?
Jeff Jank: Yeah, we were all up in this house in east L.A., and I still live there today on my own. [Peanut Butter] Wolf had this label he'd started a few years earlier, and decided to move to L.A. to work closer with Madlib. [Label manager] Egon and I joined up at the same time. It was the three of us just winging it, no plan, no money. Madlib moved in unofficially, first set up shop in the living room, then into this '50s era bomb shelter downstairs with 18-inch concrete walls. It's like it was custom made for him – he made music all day on a consistent schedule that really impressed me – all the much more impressive that his three breaks a day were to smoke giant mounds of green bud.
We all just dived right into this as a living ongoing project, 24/7. After doing this for a year or two, one day Madlib said he'd like to work with Doom. Egon knew a guy who knew who knew Doom, and next thing you knew Doom was out too, "Doing bong hits on the roof out in the West Coast," like he says in the first track he wrote for the album. I really didn't realize what an idyllic time it was until things got more complicated a few years later.
What do you remember about the process of Madlib and Doom working together, and how did it shape your own ideas of how to present the music?
Jeff Jank: The most important part of their process is simply that Doom understood Madlib right off the bat. He understood where he was coming from with the music, how it connected with the records they listened to from the '60s-'90s, and Madlib's inclination to work on his own in privacy. Doom was all for it.
I often picked up Doom from a hotel each day. We'd hit a liquor store around 10am. He'd write on the back porch, Madlib doing his thing downstairs in the bomb shelter. I don't know how to say this influenced the artwork other than I was there. Most of the time I was just concerned with the album getting finished. I also had this side hustle with Doom where we did a trade: I made him a painting in exchange for him placing a few challenging key words in the lyrics. Those words shall remain secret, but I'm happy to say he gave a shout out a couple of my cartoon characters Hookie & Baba in the lounge track "Bistro."
Somewhere along the way, the first demo Doom and Madlib did got leaked on the web, and it really soured the process for them. Both guys just figured they were done with it, on to the next thing. The process of getting them back to work took most of 2003, and the very last parts of the album were much harder than everything else. Right towards the end just about everyone was frustrated, and I ended up being the last guy in the studio doing a some minor edit here and there, which I'd never done before at Stones Throw. I drove home thinking, this is great music, great beat-maker, great emcee, and I got a shout out for my cartoon characters, life is pretty good.
Despite this, I was truly surprised at the love the album got. To this day I see new people discovering and being inspired by this record and I'm really glad I was a part of it. (It even makes the multi-year process of the mythical second album somewhat bearable.)
Being visually and graphically oriented himself did Doom have his own ideas of how he wanted the art to be executed?
Jeff Jank: Although I knew Doom from KMD days, I didn't know until a little later that Doom had drawn the cover of Black Bastards or had anything to do with visual arts. We talked more about that stuff later, but at the time all I knew was that he was going to be absolutely dead set against using his "face" on the cover. When he came over to check it out one day, his guy Big Ben Klingon just happened to be with him. I lucked out. Doom groaned when he saw a the picture, but Ben instantly got it. He was howling, "Look at this guy, what's his story?! This is perfect!" We have Ben to thank for the cover.