L.A.'s Stones Throw and Paris's Ed Banger Records will have a live show together in Paris at Bataclan, March 6, 2009, on the first night of Stones Throw's 2009 Europe Tour. Here are label founders Peanut Butter Wolf and Pedro Winter (Busy P), interviewed by Denis and Emmanuel from Freeyourfunk.com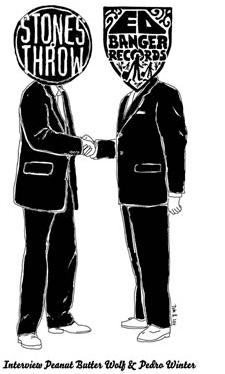 Do you remember the first time you met each other or heard about each other's label?
PBW: From what I remember, Pedro came
up to me randomly at a hotel many
years ago. I don't even remember how
he recognized me, but he told me he
was a Madlib and Dilla fan and was
telling me about how Dilla worked
with Daft Punk and stuff like that.
He gave me his business card and his
business card made a big impact on
me. It was simple, but stood out from
all the others I get. I showed it
to Jeff Jank and said, "We need to
make new business cards. Look at this
one." Jeff made a dope one that was
a circle with a hole in it like a record. I think a couple years went by
before I saw Pedro again and by that
time, we had new business cards!
Pedro Winter: It's funny how Stones Throw has no age for me. I mean, the
label is almost 15 years old and for
me, it is part of the game like Def
Jam or Rawkus.
Most people would define Stones Throw as mainly a hip-hop label and Ed Banger as mainly electro. Is having both in a same night really consistent? Or can we say that both labels have in reality much wider scopes?
PBW: I think people from both labels
like lots of different styles, but
are known more for one thing. My taste was always all over the place. In
the late 70's, it was Kano, YMO, Cameo, Rick James, in the mid 80's, it
was Kraftwerk, Cybotron, Egyptian Lover, as well as Cabaret Voltaire, PIL
and Joy Division as well as Schooly
D, Ultramagnetic, and BDP. When Stones Throw started in 1996, electro
and post punk died out for me and I
was straight up all about my hip hop
music, but even within a few years of
starting the label, I was releasing Captain Funkaho. It's easier to tag
people to one thing than it is to
show how complex their taste truly
is. When I opened for Justice this
NYE, the music I played fit in just
fine. That was a good indication that
fans don't need to listen to just one
type of music for the whole night,
just like I don't play only one thing
as a DJ or music fan.
Pedro: I would prefer people thinking
both ST and Ed Rec are FREE labels.
I never wanted my label to be a "one
genre" thing. I think our labels look
like us. I got emotions from Metalli-
ca and Nick Drake or from James Brown
and Kraftwerk, maybe it's weird, but
it's why my label sounds like this. I
guess it's exactly the same for Peanut. Doing this party together means a lot
to me. First as a fan of ST and then
as an entertainer, i want to use my
power to educate the kids. ST is one
label you can trust, music business
has changed, kids want to believe and
trust us. Here we are!
What is your perception of each other's label?
PBW: I love their stuff and they worked hard to get where they are. Both
Pedro and Mehdi bring that friendly
high level of energy when they walk
into a room. They both made an impression on me when I met them and
they both embraced what I do as well,
so that's appreciated. Similarities:
we both are into lots of different
music, but get tagged for one thing.
Differences: they probably tour more
and have hit songs under their belt.
I can't name a hit song on Stones
Throw.
Pedro: ST is the label that keep that
nice dust on music, you hear what i
mean? They don't try to be hip or
whatever. I don't know nothing about
soul music, but i can tell Stones Throw got SOUL and I like it. Madlib and Peanut's compilations are
of course my main obsession for ST.
Madlib is dropping the bomb that make
me smile.
Wolf, what are the labels (dead or alive) that have influenced your from an artistic and visual point of view?
PBW: There's bunches and they're mostly obvious. Factory, Def Jam, Cold
Chillin, Soul Jazz, Wackies, Luke
Skywalker, Fania, Sugarhill, Memo,
Sleeping Bag, Macola. My favorite labels visually are the bedroom ones
that take an out of focus picture of
the recording artist with a 110 camera and use an ugly font and ugly
clipart logo that doesn't match. When
I see records that look like that,
the music is usually good.
Both labels have also a strong artistic direction through Jeff Jank and So-Me, the artistic directors of your labels. Can you tell us the artworks both have done so far which are your favorite ones?
PBW: Not sure. Jeff has done a lot of
good stuff. Off the top of my head,
I like the Madvillain and Funky 16
Corners.
Pedro: Let's be clear, ST and Mo'Wax
are my key influences when I decided
to launch my label. Of course it was
no point copying Jeff Jank or Futura.
I was lucky to meet SO ME. For me, as a kid of the 80's, images
and design are important. I did not
see my label without a strong visual
impact.
As a coincidence or not, both of your labels just released picture discs – DJ Mehdi on Ed and Mayer Hawthorne on ST. Does it mean that releasing vinyl today still has some relevance or is it just a luxury? Do you buy picture discs yourselves?
PBW: Actually, I even did a PB Wolf
picture disc record back in 1995 for
another label, just before starting
Stones Throw. I love to release vinyl
whenever I can. The Mayer Hawthorne
vinyl got a huge demand, even though
the songs were available for sale and
for free as MP3s on several websites.
I'm so glad that people still buy
vinyl! I started collecting picture
discs, but then I gave up when I saw
Q Bert's picture disc collection. I
have a pretty nice 8 track collection
though.
Pedro: From now on, all Ed Rec 12"
will be picture discs. We need to
keep kids attention. Digital sales
are growing up, but we still need to
sell CDs and wax. Making picture disc
is also a pleasure, imagine the bedroom of fans, they will have their
own little gallery.
Your favorite artist/LP/track/remix cover from Ed Banger for PBW, and from ST for Pedro?
PBW: I guess the Justice cover. I love
the simple stuff best. And I guess
the fans do too, based on that.
Pedro: James Pants really killed me
recently. That guy is free, and only
a label like Stones Throw could release his music. I am of course a
massive Madlib fan. Instrumental hip
hop is one of my passion.
Pedro, how did the Daft Punk remix by Slum Village/Jay Dee occur?
Pedro You all probably know the
classic "Raise it up" from Slum Village. This beat was insane at the
time. Jay Dee as usual came up with
an avant-garde beat. I did not notice the sample at first sight, but a
friend of us was there and say, "Hey
hey hold on, isn't it a Daft sound?"
And fuck yes! It was in fact a sample
from Thomas Bangalter's solo project
for his label Roulé.
(Youtube: Thomas Bangalter – Extra Dry | Slum Village – Raise It Up)
Instead of loosing our time and react as ass holes
and ask for money or shit, I propose
to the Daft boys to take care of it
and ask a remix in exchange of the
use of that sample. I met Dilla in
Miami and he was of course up for it
and was really friendly. He is from Detroit and electronic
music never scared him. We were so
happy with the result and the shout
out. It was a simple and nice adventure. I feel really lucky to have met
Jay Dee it was 8 or 9 years ago.
Which collaborations did already happen between Stones Throw and Ed Banger or which ones could you imagine in the future?
PBW: I had DJ Medhi do a remix for
James Pants but that song was super
hard to remix cuz the vocals on the
verse are in one key and the chorus
is in another. I didn't realize it
until I tried doing mine, at which
I decided to do one that was similar
musically to the original. Medhi turned in a great remix musically, but
was having a hard time making it fit
to the vocal, so we opted to scrap it
and he released it as an instrumental
under a different name. That's the
only collab that ALMOST happened. I'm
sure we'll do one soon though. Maybe
some kind of trade would work. I know
Pedro was supposed to do a remix for
Mayer Hawthorne.
Pedro: Stay tuned!
Wolf, do you plan to release a new LP in the future, after My Vinyl Weighs a Ton? Can you tell us a little more about your VJ set which will happen at in Paris?
PBW: I just started making music
again using different equipment, so
I'm teaching myself how to use it.
I'm doing songs here and there, but
probably more interested in doing remixes or productions for other artists than an actual "P8W" album. The
VJing just gives me something new to
collect. I have over 3000 videos now.
I like playing older stuff cuz it's
almost like looking through old photographs. My favorite stuff to play
is stuff between the 1950s and 1990s.
I'll save the newer stuff for other
DJs.
Pedro, you worked with a west coast artist who has also worked with Madlib – Murs – on the track "To Protect and Entertain". Why him?
Pedro: I met Murs a long time ago
when he came to Paris for the promo
tour of his Def Jux album release. I
was Djing for a skateboard contest
outside of Paris, and Murs was doing
a showcase. We both grew up with a
board and share lots of common points.
One day I was looking for an MC for
my new beat. I had the Cool Kids in
mind, but due to some schedule shit,
we did not work together but i know
we will one day! My other choice arrived by chance. The A&R from Warner
in NYC told me they've just signed a
hot MC, a guy called MURS. I was like
crazy and told the guy, HELL yeah!
I want to work with him. I am a big
big fan of Murs album with 9th Wonder's The 9th Edition. I emailed Murs
and speak with him a couple of times. He just drop the perfect thing.
It's funny and fit perfectly the beat
i did. I know we'll do some more together. That man is genius and a super nice man. Probably one of my best
meetings in 2008.
Pedro, you were present at James Pants' first live show in Paris a few months ago. How would you describe James Pants for those who do not know him?
Pedro: it's one of the best live shows I've
seen in 2008. I never seen Prince
live, and I want to believe James
Pants is something like Prince trying
to be the 5th Kraftwerk robot! Don't
miss it!
Wolf, unlike James Pants or yourself, Mayer Hawthorne and Dam-Funk will play for the first time in Paris. Can you present briefly Dam and Mayer's music?
PBW: Dam-Funk runs a club night that
specializes in 80's disco/soul/funk/electro boogie. He's been doing it
for a few years and everybody who's
been there has a great time. Usually,
when he goes on the road, it's like
he's bringing that club night with
him. He had a great night in London
at Benji B's anniversary party, so I
know he's ready to bring it to Paris and Paris will be ready for him.
Mayer, like myself, Dam, and James,
really enjoys playing this music as
well, but ironically, the music he
makes sound more like 60's soul, so
now he's starting to incorporate that
in his sets. Hopefully, they'll both
perform songs live as well. That's
what I'd like to see. But for those who don't know these guys, google
that shit!
What will be your label's 2009 main releases that you want people to pay attention to?
Pedro: Sebastian's first album, Uffie's
first album, DSL's new album, and DJ
Mehdi's remixes compilation. And a
lot of more stuff that I did not plan
of course!
PBW: We don't have main releases. We
want people to pay attention to everything we do. Twitter that shit! Myspace that shit! Facebook that shit!
Actually, stonesthrow.com that shit!
www.stonesthrow.com
www.edbangerrecords.com
www.freeyourfunk.com
Also see:
Stones Throw 2009 Europe Tour, presented by Carhartt