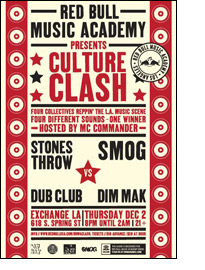 Red Bull Music Academy is bringing four of LA's music collectives, including Stones Throw, under one roof on December 2. Celebrating traditional Jamaican sound clash culture, these four groups will participate in a music battled to be judged by the crowd.
Representing Stones Throw: Dam-Funk, J. Rocc, Mayer Hawthorne and Peanut Butter Wolf.
The other collectives are Dim Mak, Dub Club, and Smog — all friend of ours, but on the night of Dec 2 we're gonna rip their heads off anyway. You do what you gotta do, right? Come join us.
Thursday, 02 December 2010, at EXCHANGE LA, 618 South Spring Street, Los Angeles, CA 90014
UPDATE: GIVEAWAY TICKETS ARE ALL OUT. HOPE TO SEE YOU THERE.
EMAIL US THE NAME OF STONES THROW'S VERY FIRST RECORD RELEASE. 10 CORRECT ANSWERS WILL BE GIVEN TICKETS TO PICK UP AT THE DOOR! EMAIL: info@stonesthrow.com
Tickets & more info:
Red Bull Culture Clash Los Angeles December 2