The Minimal Wave Tapes anthology will be released on Stones Throw January 26, 2010.
I love to brag about how I first discovered disco, soul, and funk in 1977 from my 2nd grade teacher – Mr Bowman at Berryessa Elementary School in San Jose – who showed our class music every Friday. By the early 80's, I was full into it, saving my lunch money during the week so I could buy records over the weekend. Lot's of DJs have this story. Every now and then, I heard an electronic song I liked and bought as well. "Pop Muzik" by M, "Computer Game" by YMO, "Numbers" by Kraftwerk, "Wordy Rappinghood" by Tom Tom Club, "Hard Times" by Human League, "Hurt" by New Order. Those exceptions to funk and soul came every so often, but they were a rare treat as much as Cameo and Parliament was for me.
By about 1984, I started digging deeper into that kind of stuff, but it was still hard to find out about where I lived. My friend Steve turned me on to Joy Division and of course there was Alexander Robotnik, Tones On Tail, Ministry, Cabaret Voltaire, PIL, Bauhaus. These were all records I discovered while in high school. There was a song called "The Planet Doesn't Mind" by New Muzik that we were all after and I didn't find on vinyl for over 20 years. But I did find a compilation at the local record store called "Some Bizarre" and bought it because it had a rare early track by Depeche Mode and had some other groups I'd heard of that were supposed to be good. That comp was about as underground as it got in San Jose. It was probably 2 years old when I found it, but looking back, in 1985, my friends and I were all discovering this music from 1981-1984. I wore eyeliner to a few parties and straightened my hair, and a buddy started a goth band called Mourning Becomes Electra, wore all black, and teased his hair out like Robert Smith.
Then by 1986, everyone in "the scene" seemed to put their keyboards away and picked up a guitar. They called it alternative rock or college rock. I liked some of that stuff, but not as much as the drum machine/ synthesizer stuff (except for the Violent Femmes). So I gave up and went full on into rap!
Throughout the years in my collecting of older music, I've always tried to find this kind of stuff, but never really had much luck. Seems like whoever had these records didn't want to give them up. Until about 3 years ago. I remember getting excited when I found out that Jay Dilla sampled Throbbing Gristle. Madlib turned me on to some stuff too. And I showed them stuff. My last few trips to Europe have helped me find things I didn't know existed. I spent the most money I've ever spent in one day in a store in Lausanne, Switzerland. My credit card declined and I had to borrow the money for it.
During a trip to Brooklyn last year, I found myself randomly in Academy Records. I noticed a bunch of new reissue compilation records that were all great. Luckily I was able to hear them because I didn't recognize any of the bands on them. The address on the back was in Brooklyn, NY. I called Duane, a DJ friend who knows everybody in the underground music scene in New York, and asked, "What do you know about this label Minimal Wave?"
"My girlfriend's friend Veronica runs it," he said. He gave me her number and I made the awkward phone call.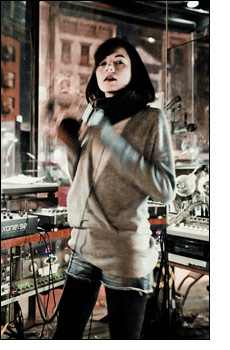 Veronica is so passionate about this music. I see her how I see Egon with the 60's deep funk or Dam-Funk with the 80's boogie. An obsessed freak! I always wanted to do an album of this kind of stuff, but didn't wanna try to compete with someone like Veronica who does it better than I ever could. And she does it all by herself: contacts all the bands, does the mastering herself, does the artwork, liner notes, etc. Her releases are all vinyl-only. No CDs, no digital.
I asked her if she'd let me collaborate on a "best of" type release of stuff from her catalog in all formats. Expose the Stones Throw audience to music that I feel they would appreciate if turned on to. She let me go through her whole catalog and pick my favorites. We went back and forth a little and what we came up with is The Minimal Wave Tapes: Volume 1. If you wanna hear more, start by listen to her podcast on our site or her weekly radio show on East Village Radio or check out www.minimal-wave.org.