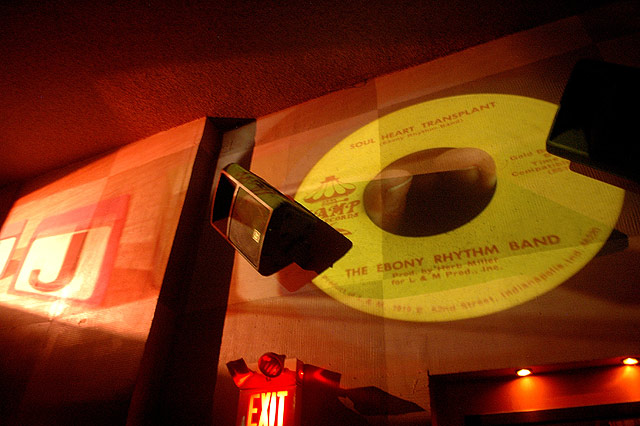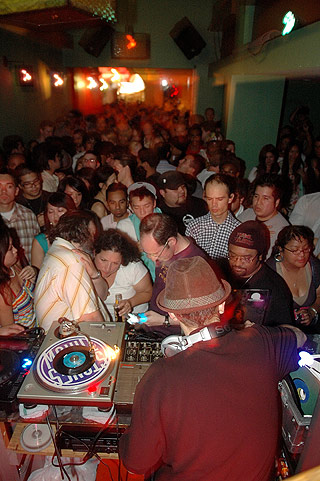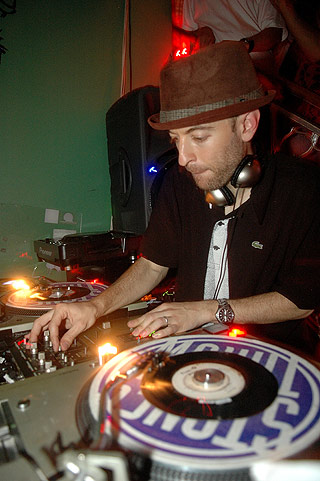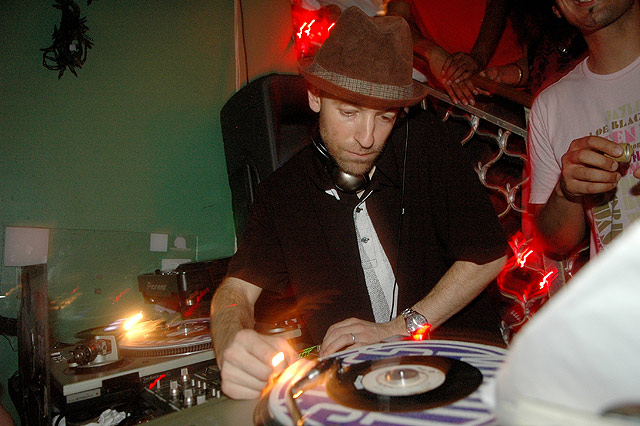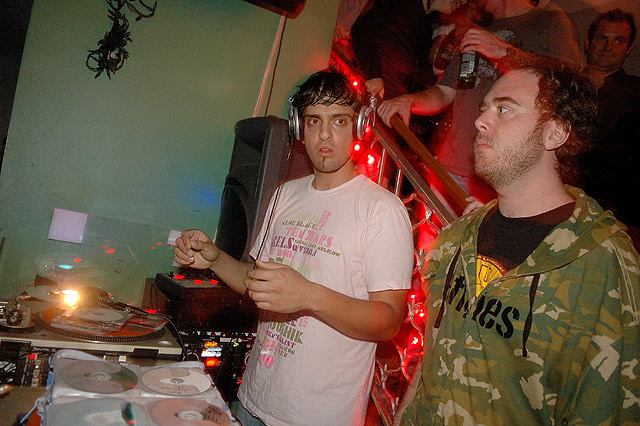 Day 7, Funky Sole at Star Shoes
My dad used to have a friend named Seven. This was when we lived in El
Paso. I remember thinking it was cool how he was named after a number.
As I got older, I started realizing my dad was really superstitious. He
used to insist that 7 and 11 were unlucky numbers. He got in a car accident
on July 11th one year (or maybe November 7th) at 7:11 PM (or 11:07 PM).
Every time something with a seven or 11 came up, he'd have to make a comment
about it and bring up the car accident, etc. I'm now thinking that subliminally,
I got the numerology thing from him.
The first 6 nights went so well. Every night exceeded my expectations.
I was making up my sets the day of the show and every night worked out
pretty smoothly. I prepared hard for each night, but when you do it day
of show with a lot of records you've never played out before, it's usually
a recipe for disaster. But, I fed off of the energy of the crowd and improvised
a lot at the clubs and all 6 nights worked out well. It was almost too
good to be true. I've been having so much fun at all these gigs. I was
bound for a let down.
Today, while going through my records, I found one called "The Unlucky
Seven". I was excited to work that into my set. I overlooked the
adjective "unlucky" though. What followed was right out of the
Brady Bunch goes to Hawaii episode (or Larry David). Car was on emptly,
forgot my pin number at the gas station, traffic wasn't moving, late for
the club, valet parking sold out, etc. Looking back, none of this was
that big a deal, but I fell victim to what they say you're supposed to
avoid in that self-help book/DVD "The Secret". My mind state
was off and my DJ set followed suit. My right turntable kept feeding back
and skipping and a lot of my transistions were shaky. It took me a minute
to work out the kinks and before I knew it, my hour was up. It could've
been a lot worse, but wasn't really the kind of set you'd wanna end your
tour with.
I'm even more bummed because Star Shoes is coming to an end in two weeks
or so. I'll miss that place. I wanna congratulate Egon, Miles, and the
unofficial third member Cut Chemist for holding down a really successful
weekly party without EVER playing hits. I've had a lot of great memories
in that bar and will definitely miss it. And big props to Johnny Nixon
and his brother for letting them stick to their formula. Being on Hollywood
Blvd right on the walk of fame on a Saturday night, there is more pressure
than anywhere else in the world to play nothing but hits, but they never
sold out and still always had the crowd dancing.
It's been a real interesting seven nights. THANKS AGAIN SO MUCH TO EVERYONE
in LA that came out. The support was phenomenal. This was the most fun
I've ever had DJing.
Day 6, Firecracker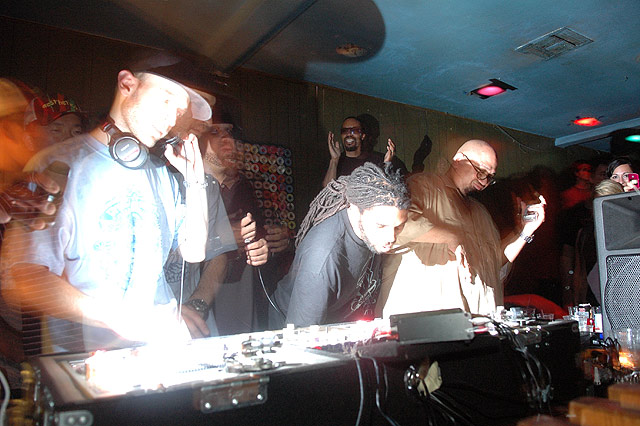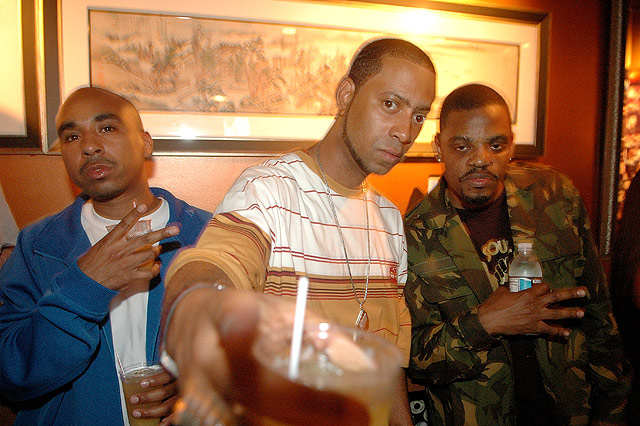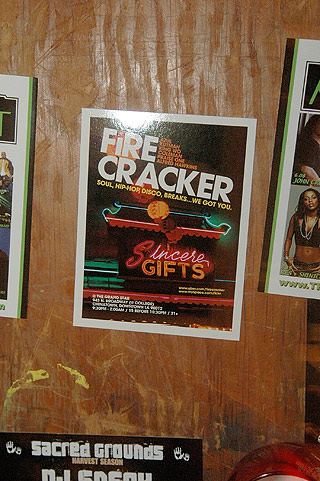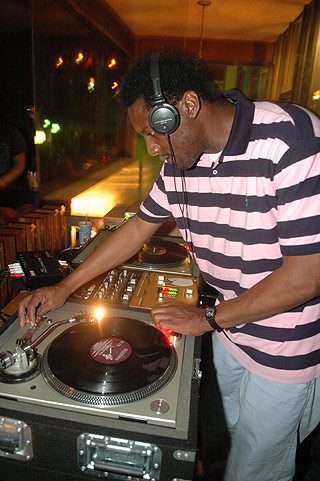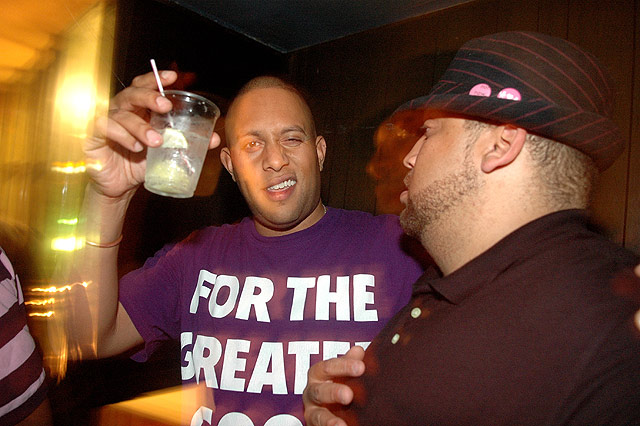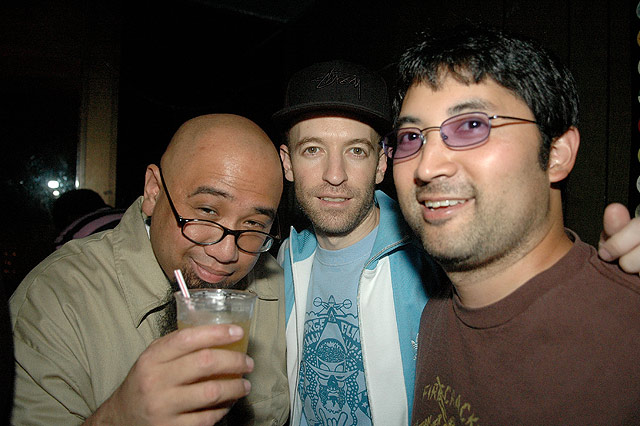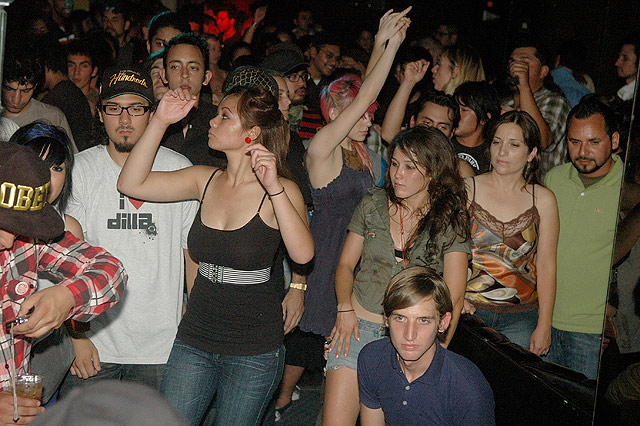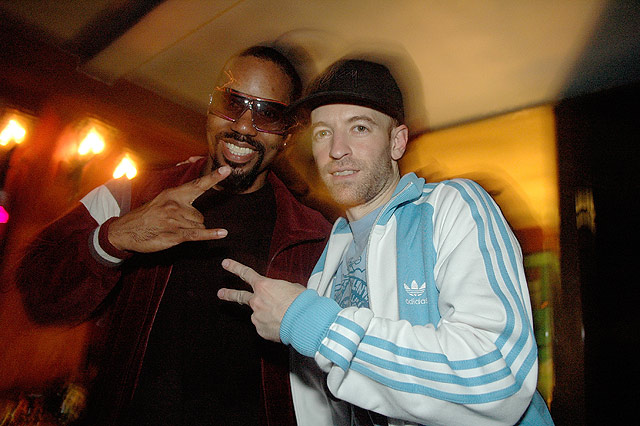 Damn, my ears are ringing again. Nothing new there. I'm also hungry again.
I think I'm still on Japan time. So I come home and there's a silverfish in my room. Normally, I'd kill
it, but in an "ethical" way. Quick.
Tonight, I tried to direct it to the door, then tried to pick it up,
but it wouldn't cooporate. Eventually, I had to let it go. I can't think
of how Silverfish harm humans. Spiders and Mosquitos break skin and draw
blood. Moths put holes in clothes. Mice cause a smell after their carcass
starts to deteriorate. Silverfish? I can't think of any negative consequences of coexistance.
PS- Great to rock Firecracker. The system was second best out of the
7 nights and the crowd was even better. I couldn't believe I saw Keith
Tamashiro. That made my night. Also great to have Dam Funk and B + both
spinning for their birthdays. Dam really set the tone right before I went
on. I spent the whole day working on 2 sets, but got to the club only
in time to do the second set (the disco set.)
Rhett: 6 for 6. Guapo.
–
Day 5, The Root Down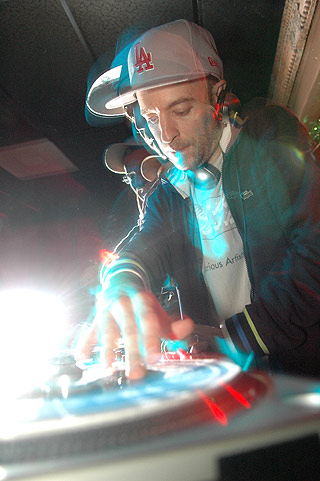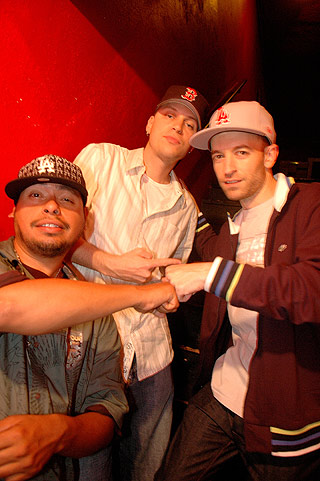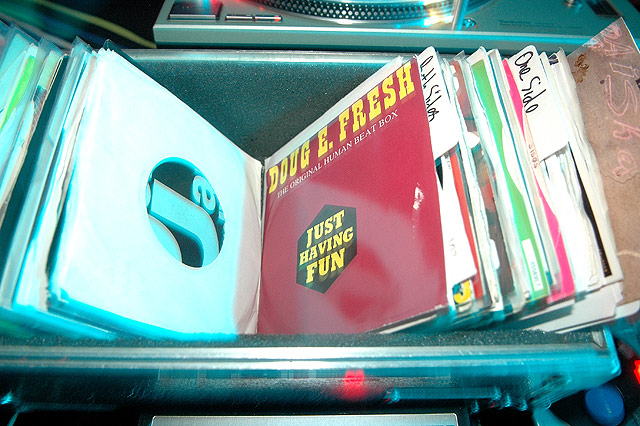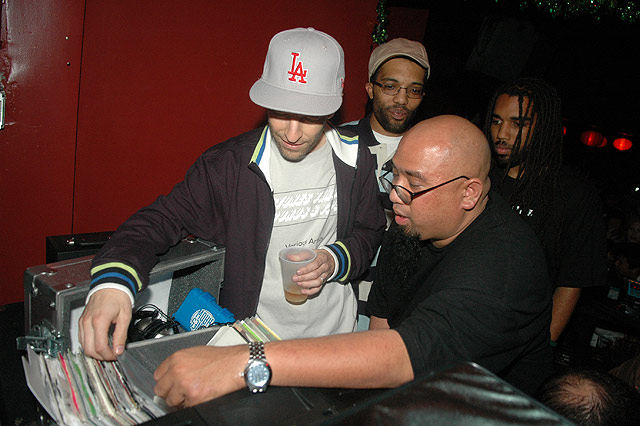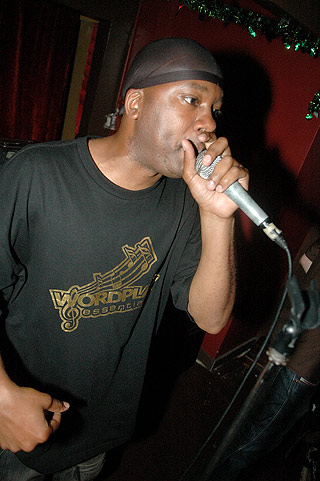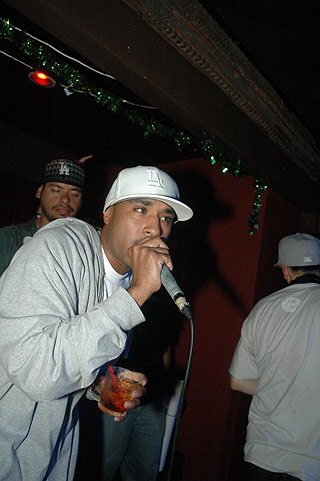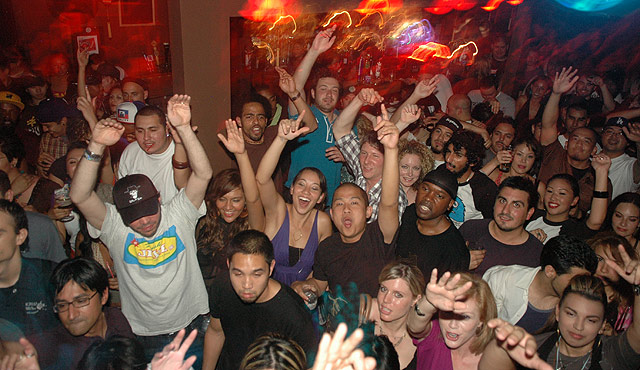 I started my set tonight by explaining how Root Down was one of the reasons why I moved to LA in the first place. I was impressed that so many different styles of music could be played at one club. It reminded me of how I tried to make my sets when traveling. Miles and Egon always specialized in the late 60's funk there and I played the early 80's funk/soul. Dusk, Carlos Guico, Cut Chemist, and Wyatt Case understood and played both, as well as reggae and Latin. When I played stuff like Slave of D Train, Dusk would say "Strictly for the mature crowd. All the people in the house who are 25 or older, make some noiiiiiiisssse" and it'd make me feel old. The common bond that all us DJs had was that we all played hip hop. So that's what I decided for day 5, (but all on 45). In hindsight, I wished I did all 7" singles all 7 days.
Day 4, Dub Club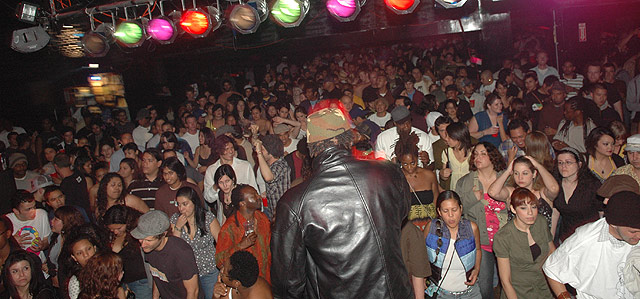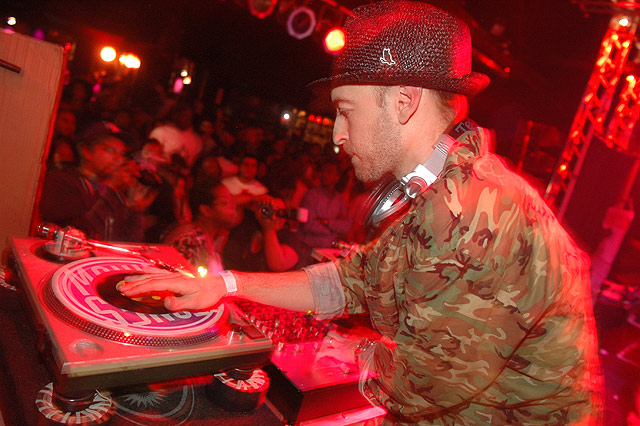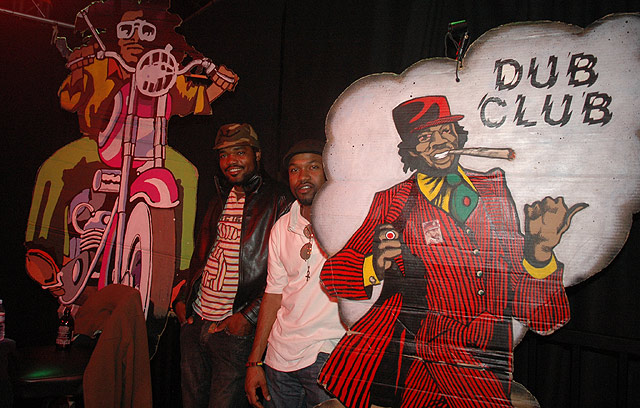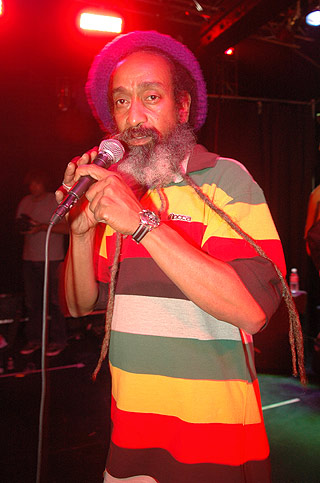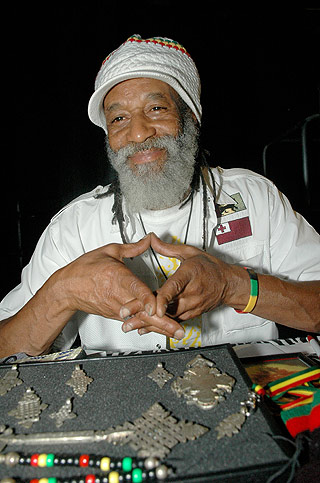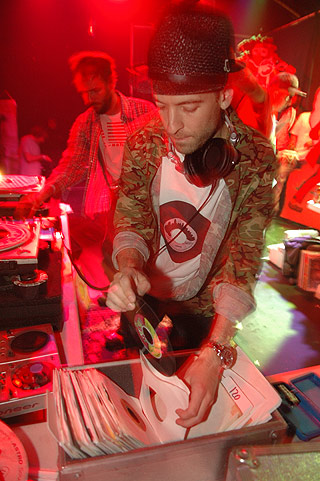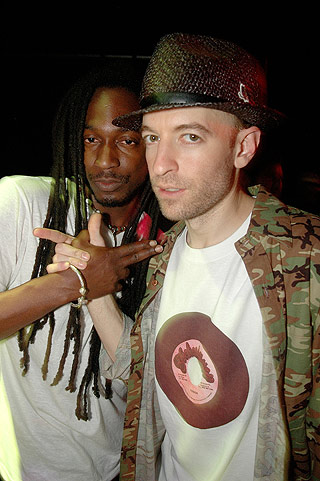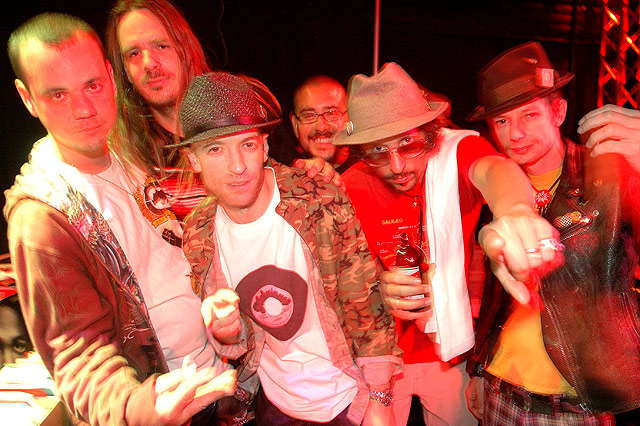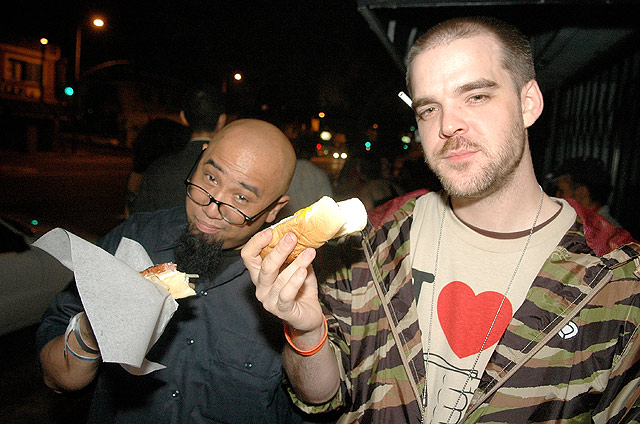 In the 5 day corporate world work week, Wednesday's hump day. I started
my work week a day early this week and will end it a day later, so it's
my hump day today as well. I got my set together a few days ago because
I've never spun a full set of reggae music before, let alone to a fully
reggae crowd. Today, I counted my records that were put aside for my set
and realized I had WAY TOO many, so I went in and cut them in half. Better
to get a concise set of everything you REALLY wanna play at this sort
of thing than bring more and end up playing the wrong songs and running
out of time.
What was a little awkward was that I promoted my set to be 70's Dub and
Roots because that's some of my favorite stuff, but then realized from
going last week that by midnight, the crowd likes to dance to a lot of
mid 80's to early 90's dancehall stuff. I don't wanna come to a weekly
themed night and throw the vibe off that much, even though everyone is
being a good sport at what I'm doing.
So today I decided to play a little of every style of reggae from the
60's til now. I came to the club confident that I'd be happy with my selections,
regardless of technical problems.
Let me start by saying Dub Club is a great thing. The times that I went
made me think to myself, "why haven't they released an album of this
stuff?" They got a huge crowd (biggest of any of the nights I chose
for my 7 days) and yet, they really haven't gotten into the recording
world. I know people would support their record. The DJs know the music
really well and they have a bunch of talented vocalists throughout the
night. My main regret from my set is that I didn't play more instrumentals
to let them shine more.
I got to meet all the DJs for the first time and they all treated me
really well. They weren't trying to kick me off during my set, even though
an hour is an eternity for one person to spin at Dub Club, with so many
DJs on stage and so many in the audience. They normally go back and forth
every 20 minutes or so between the DJs and I can't remember them ever
having a guest DJ before. There's no need for it. They got it covered
on their own.
So when I first got there at around 10:30, I went on stage and a guy
in the audience yells "Chris, what's up?" I walk up to him and
notice that it's someone I know, but can't remember who he is. I look
confused and he says, "I'm your neighbor, I live across the street
from you. What are you doing here?" I tell him I'm spinning and long
story short, he goes to Dub Club every week, but had no idea that I was
a playing there or that I was doing a 7 day LA tour (or probably even
that I was a DJ).
My battery is now at 5%, so I'll cut the rest of this short. I had a
good time once again, to the point where I'd like to do this again sometime
in another city (maybe NYC). Just gotta find a way to get all the records
out there.
I got to spend some time with Scientist (who just mixed the Guilty Simpson
single for us) and he and I brainstormed about some more projects with
him. My homey Ross, who filmed the Stones Throw Singers music video (among
others), came out as well. Rhett was there again and that makes him 4
for 4. I'm grateful.
Just dozed off. Better finish this tomorrow.
Day 3, Tuesday: Cinespace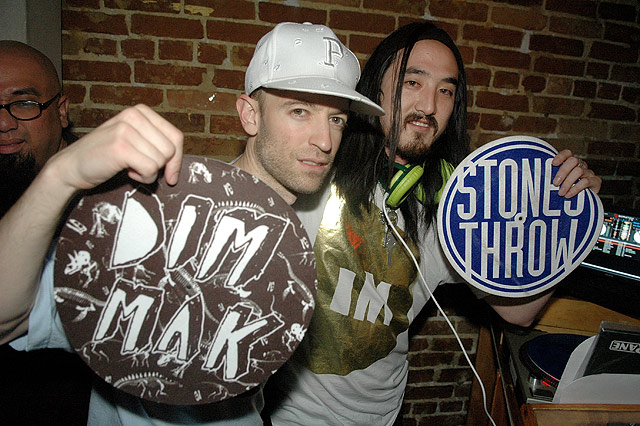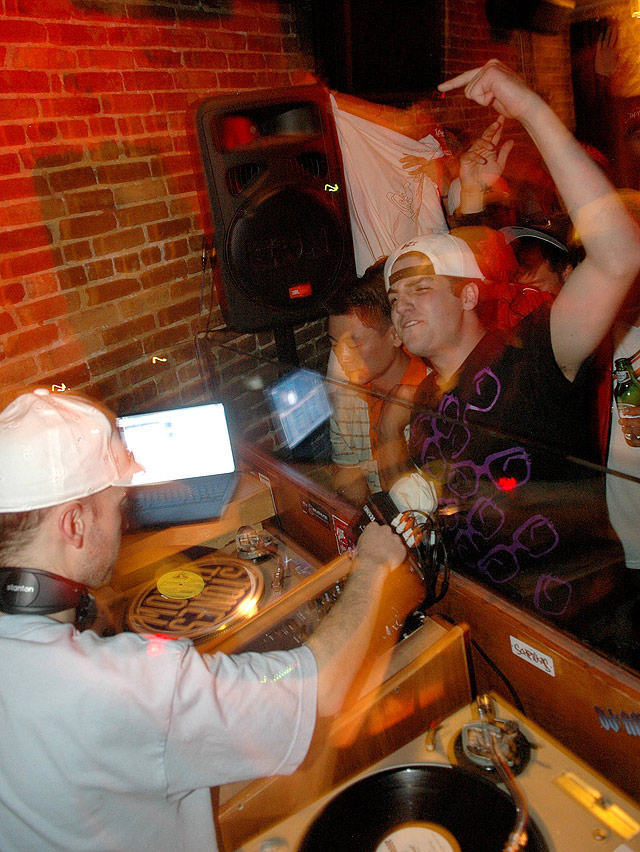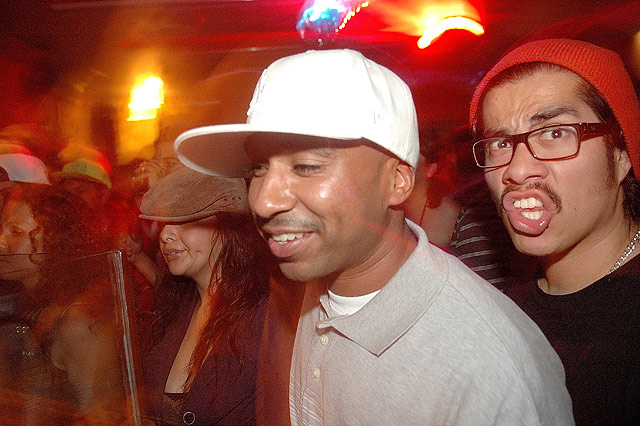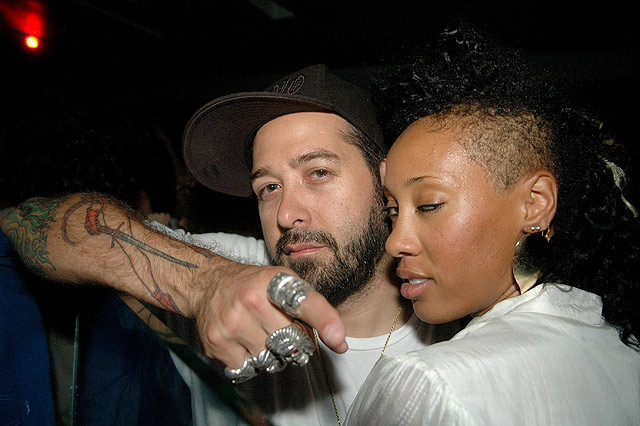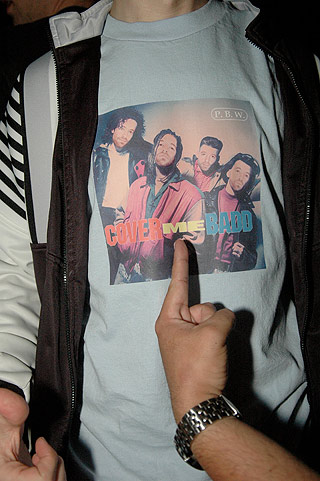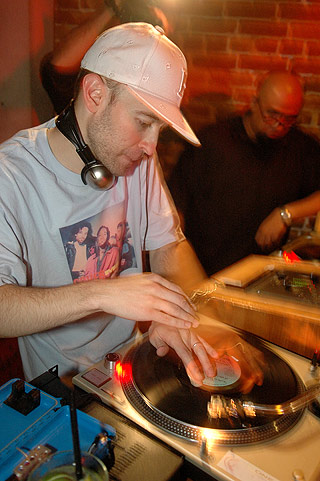 I just home from Cinespace and ate a huge bowl of chocolate chip ice cream. My mom's told me, in the past, I'm not supposed to eat ice cream at night because it's both cold and sweet. A double whammy if you're concerned about having vivid, explicit nightmares. My ears are also ringing from the LOUD noise.
Tonight was a very different crowd from last night and tomorrow night–the reggae [crowd] will again be different. That's what's been the most fun for me. I was glad that they video taped tonight and even more glad that the crowd got into the BADD vibe. After my set, a guy came up to me and asked if I was actually playing my own records because he heard through the grapevine that I was pulling favors from other DJs (AKA borrowing records). The only thing I borrowed from another DJ was his voice: Rhettmatic shared mic duties with me tonight and definitely added to the night. Thanks Rhett. Actually, while getting interviewed earlier today, I got asked if I was gonna scratch tonight, which gave me the idea of doing a cover of "Rockit" by Herbie Hancock so that idea was halfway borrowed/thought of today.
The theme I made up tonight was all cheesy covers and some were worse than I realized when pulling my set together. All in good fun though, which is what Tuesdays at Cinespace is usually about. My ears are still ringing, but it's all part of the game.
I'll probably write more tomorrow cuz my eyes are starting to close on their own. Thanks to Steve Aoki, Them Jeans, and the rest of the Cinespace crew for a hugely succesful night. Packed house.
Tomorrow is hump day "as I would say." I'm gonna do mainly '70s reggae, but I'll slip in a few '80s and '90s, as well. And I'm not borrowing ANY records from anyone else.
Day 2, Monday: Funkmosphere. Also pictured are Dam Funk and Rhettmatic.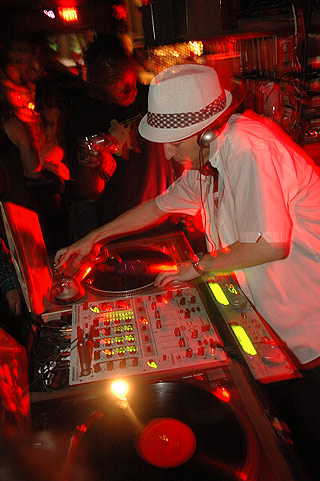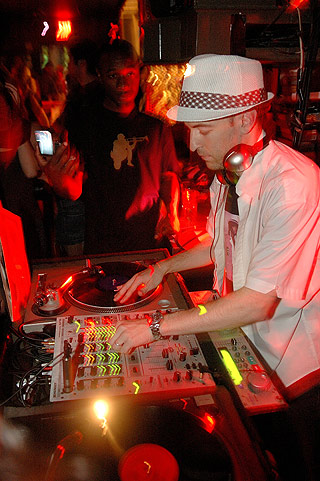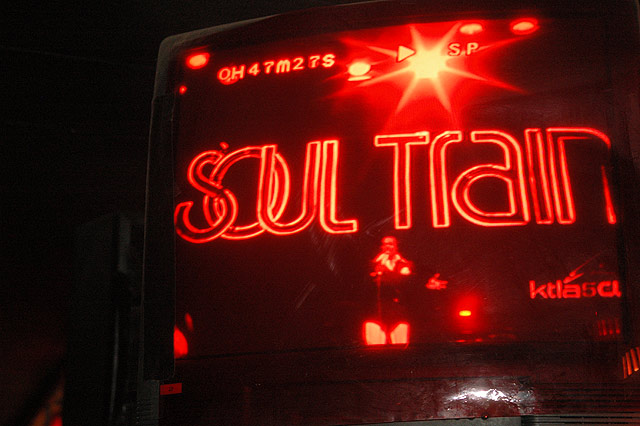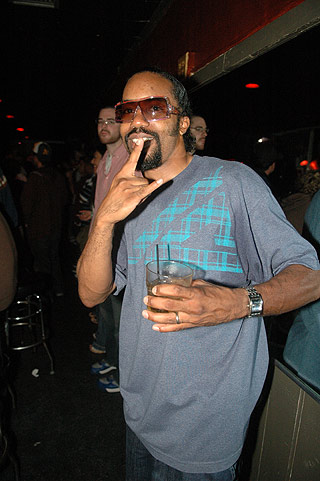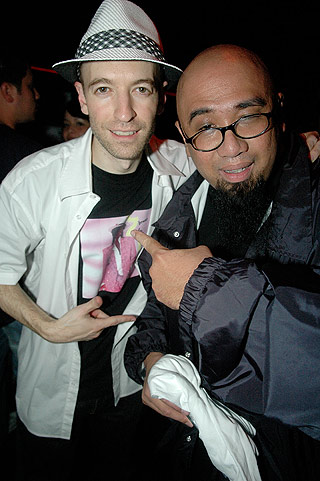 The night I was most looking forward to has now ended. It is the one I like best because I'm really into '80s soul and there's no pressure to play hits since it was a Monday night at a smaller spot. Whoever said the West Side sucks should come to this night. I've written about it before, but I gotta say what's up to the DJs who hold it down regularly: Billy, Ron and Dam Funk. Three great ears. Dam did a remix for Baron Zen that came out on our WMC box set a couple months ago and is recording some new stuff hopefully for my label, Stones Throw, as well. The day was a long one as I went into the studio earlier and worked on one of Guilty Simpson's new tracks and also caught up on Stones Throw stuff before working on my set for tonight. I had a T-shirt made with Jesse Johnson's picture on it and was good to go. (Thanks Liger and Violet).
Dam called me at 10 PM to tell me it was already packed, so I left the house to catch the vibe before I went on. I'm trying to go on at 12 o' clock midnight every night to get myself on some sort of schedule. Routine is important. When I got there at 10:30, they weren't letting anyone else in. I started feeling stressed for the people who were waiting outside cuz I personally HATE waiting in lines. We decided to give them T-shirts and posters cuz it didn't look like they were getting in. In the meantime, Billy introduced me to his sister and a Vodka-based drink that I never heard of before, but being Polish, I had to try it (even though he insisted I drink it with the French brand Grey Goose, which was also Doom's drink of choice during the recording of the Madvillain album.) Run on sentence. Sweet Steve would kill me if he read this. I think the Goose is now kicking my ass as I write this.
I called a few of my friends and my wife, the lovely Violet, and told them to go around to the other door so they could sneak in. In the meantime, my crew from way back, like Theresa (who took the picture of Charizma and I that was used for our album cover) and Rhettmatic (who set off "Tale of Five Cities) were already in the house. Rhett told me earlier in the day that he wanted to hear "Tricky" by The Time. A few Vodkas later and I was on the tables. The time between 10 and 12 seemed like an eternity, as too many eyes were on me. It may be what the kid in me still subconsciously thought I wanted, but as a still halfway sober adult, it felt extremely awkward. The volume on the mixer was cranked to 10 and the analog VU meters were all in "The Red" and I thought of Jaylib. As I started mixing, I realized there were no monitors in the club, which suprised me because I've spun at Carbon on Monday several times before with no problem. I was tempted to turn the volume down because in the past, my homegirl Megan told me about when she saw David Mancuso play and he purposely had the volume at a semi-quiet volume. David is a DJ I look up to, but I can't bite.
The set went really well, all things considered. A few mixes were sloppy, but that didn't matter to me or I think anyone else (by their reactions). I was really into what I was playing and the highlights made up for the lowlights. Just like Do-Over, I fought with the problem I created (not bringing anything remotely familiar to the majority of the crowd), but that's becoming the new theme of my 7 days (with me just now realizing it). I love trying to turn people on to stuff they never heard before.
People were extremely supportive throughout my set and responded to nearly everything I did. Rhett yelled "Guapo" throughout the night, which reminded me that I was sexier than Rod Stewert. If not, I should at least carry myself that way so I can fool everyone else.
Day 1, Sunday: The Do-Over. Also pictured are Arabian Prince, Chali 2na, Aloe Blacc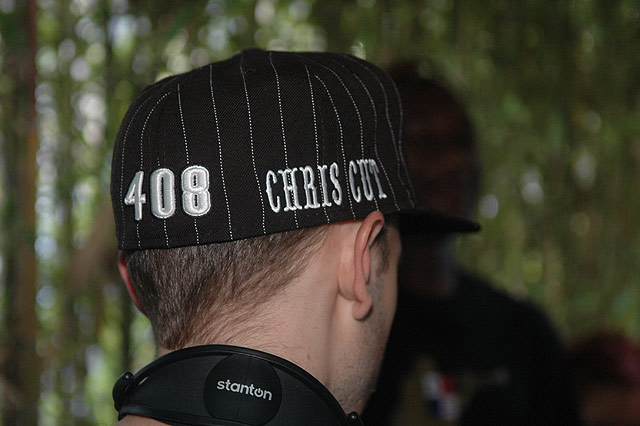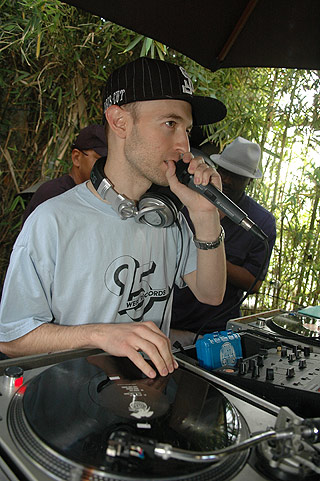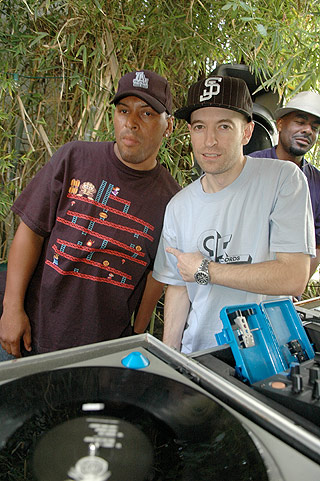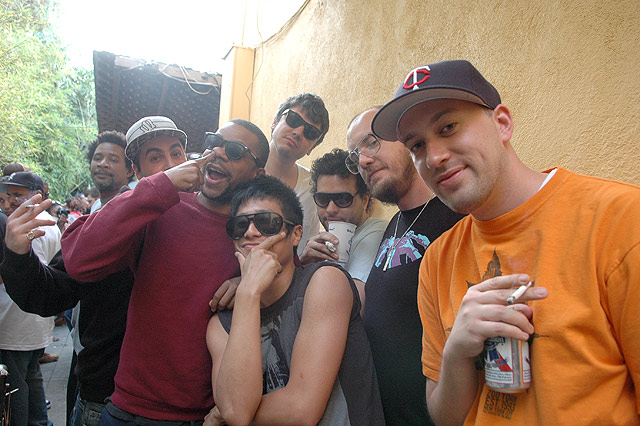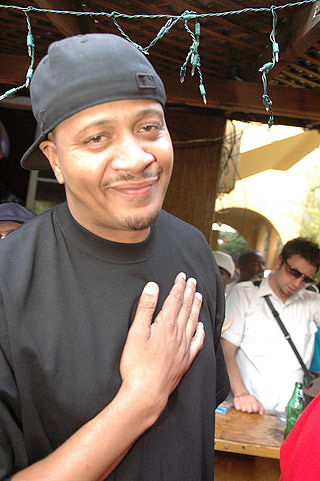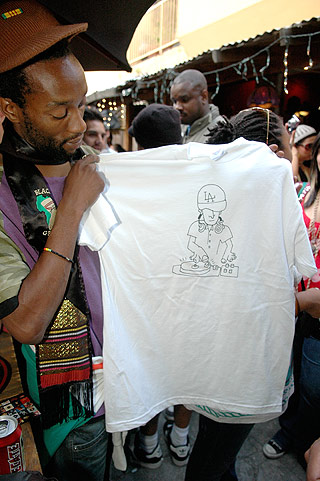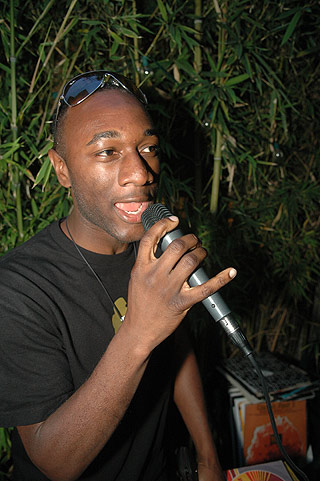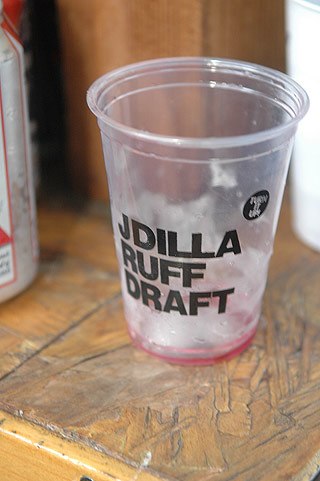 Well, it finally started. The tour I've been waiting for. I appreciate the fact that I'm going back to Europe in 2 weeks and that I was in Japan again last week, but this is the tour I've really been anticipating. Day 1 was definitely an interesting start. To begin with, I got to share the decks with my main homeboy DJ Sweet Steve (AKA Baron Zen) who I've been friends with forever and started my DJing with when we were kids. (Check out the DJ Chris and DJ Steve best of 1983 mix that we did back then if you get a chance.) Steve flew out for the weekend cuz we did a Baron Zen music video for a track of his I remixed yesterday. That's another story altogether though.
So today, when we got to Do-Over, this guy Lloyd who I've met from Turntable Lab was spinning and he was playing good soulful '70s and '80s stuff. "Nights" by Billy Ocean comes to mind and I told him that was the only Billy Ocean song I liked and we debated a little. I was suprised to find out he was only 22 years old, but then someone told me his dad was a DJ back then. I'd never seen Llyod spin before and I was definitely impressed. Steve was next and he kinda followed suit with a lot of '80s funk and some old school hip-hop. Sugarhill Records was well represented, which was a good thing. Next up was Arabian Prince, who Steve insisted I try to get to share the bill with him. His computer broke down on him this week, so he was forced to dig in the crates a pull a vinyl set out as well and did a great job. He ended with "Supersonic" and the crowd ate it up. Ramalama damalama namanama, bamadama, yeah, that's it, that was it.
Sweet Steve had to catch a plane home, but I got to start my set off with the Baron Zen "Burn Rubber" track I just put out on my label Stones Throw which was remixed by Dam-Funk who was also in the crowd. (I know, it's getting really confusing). People loved that one and with one song, I had already violated my self imposed rule of playing all '80s house. I stuck to my format for the rest of my set though, although right away, it got real messy. After a few songs, my right turntable started feeding back and skipping as well. It really interrupted my flow because house music is meant to be mixed smooth with long transitions and all I kept thinking about was how the set was being recorded and how "not smooth" it was sounding. Crunchy Peanut Butter. I swear it wasn't my fault. (That's what they all say). I started thinking ahead to Wednesday when I'm gonna play old, beat-up reggae 7"s that have dust caked on them and how much more of a nightmare it might be with the skipping on that night. I started panicing on the inside and tried my best to keep my composure on the outside. The crowd were good sports though and I pulled through and eventually got into a groove.
Overall, I had a LOT of fun, even though I played very little songs that anybody there knew and it was hard to gauge the reactions. I purposely played early because I didn't wanna have to play late and cater to drunk people who expected to hear more hits. (I got drunk later my damned self, which is yet another story.) I feel like since I'm doing this different genre every night thing, that I have to prove myself to people with each type of music I play by playing the obscure stuff that gets slept on so I can show them I know "what's up". Then I run into the "not rocking the party" problem. As a Libra, I understand the balance thing, so I slipped a couple classic house hits in there though.
Although I realize that this LA tour is kinda gimmicky, I am taking it very seriously (maybe too seriously) and don't want to make a mockery of any of the types of music I play out at it, except for maybe Tuesday night. I really do like everything I'm set to play on these 7 days and don't expect everyone to like everything, but am curious to see how people react to the different things. It was good to see a lot of my crew out today, from artists like Madllib, MED, and Guilty Simpson, to other DJs like Rhettmatic, Houseshoes, Blue Jems, and Diplo, and my other "non-performer" friends. I have to say what's up to Toph who also played a concept oriented set. He did a bike ride from the Bay to LA for an AIDS charity and played records from his friends crates today.
I stayed late at the club and my ears are now ringing, but this is definitely the most fun I've had in a while, from getting the set together, to being able to share the music. I told the crowd that about 80% of my set were songs I've never played to a dance floor before and that wasn't an exaggeration. I'm glad that LA has a rich enough music scene to be able to do something like this. I'm glad that I was able to get some cool sponsers like KCRW, Uber, V Tech, Fusicology, Stones Throw, and Flavorpill who believed in my idea and got behind it. And all the club promoters/owners who took me up on the offer. I realize that the whole concept of doing 7 days in a row in the same city and expecting people to come out each night is kinda obnoxious, so I won't take offense if tonight is the only night with a line around the block, but unless an act of God prevents me, I plan on spinning for 6 more nights.
Party on. Waynes World!