Egon is on tour in Europe with Madlib & J.Rocc and will be updating us through the end of the month. Paris photos by Egon & Mr. Mass.
9: Paris
We all awoke too late in Athens to do any last minute record shopping. Probably just as well, because after getting Madlib on the phone, I heard in his voice he wasn't feeling well. An hour, and many shuttered pharmacy windows later, Stav and I had found the only thing that resembled something that could treat him. He came down and said he might be well enough to perform at the Paris show. J.Rocc and I, mindful of the stories we heard of Dilla and crew being chased out of town amidst bottles being thrown at them when Dilla Djed instead of rapping, didn't relish the opportunity to go on stage without Madlib. But the first order was to get to Paris, and at this point, even that looked like it was in jeopardy.
We did make it to the airport, eventually, and finally met a cool check in agent – though the maximum luggage allowed on Aegean Air is twenty kilos per person, he allowed us to check in about one hundred in total. A far cry from Swiss Air, whose policy is a ridiculous twenty euroes per kilo over. We boarded our flight, all in window seats, and I got a chance to see Athens from fifteen thousand feet. What the ancient Greeks would have done for this vantage point! Modern Athens, surrounded by a bright blue sea, resembles a jagged, worn piece of marble. Or a cracked transistor.
In Paris, we checked into our hotel, a rather nice one – in that frilly-yet-kind-of-silly Ian Schraeger way. Madlib and J.Rocc checked into their rooms as I went to soundcheck alone, in an attempt to work out what would happen if Madlib couldn't perform the show. Denis, our loyal (and normally, but today even more so, dour) promoter informed me that the show was nearly sold out and that they'd open extra rooms to make room for a large crowd. Visions of bottles danced in my head. "If Madlib can just play one hour, that will be ok. He should do an hour and a half, as he hasn't been in Paris in two years. But, ultimately, he will do what he will do." You're right, Denis. Damn, I'm not looking forward to running out of this place at two AM when the crowd riots. I called J.Rocc who told me to come back to the hotel, so we could all talk together.
I arrived and knocked on J's door. We both stood aside Madlib's door as we knocked. The door opened. "Hey man, can you do this?" "Yeah, what time y'all rolling?"
J and I looked at each other and gave barely noticeable thumbs up.
"Let's meet in an hour."
True to Denis' word, the club was packed. J and I made our way back stage. Wildchild soon showed up. The crowd was mighty happy to know that he'd be rocking an impromptu performance. It seemed like the crowd was into the music I was played, which ran from Angolan merengue to Iranian psych to the heaviest cuts from Rob's first afro-psych-funk masterpiece. But damn, were they ready for J.Rocc, who was more animated at this show than I'd ever seen. Perhaps he was still thinking about what could have happened, but I've rarely seen him manage a crowd with such intensity. And the crowd simply adored Madlib, who could do no wrong. He stayed onstage for over two hours, and even grabbed the mic to perform "The Red." As he shouted "Fuck a hook" and "Turn it up" louder and louder the crowd almost exploded.
We could barely make it outside there were so many people lining up for photographs. Even the photographer insisted on getting one of herself with our exhausted friend. He dutifully posed for all, and, as we walked down the well-lit streets with Blackjoy I felt proud.
Rome | Milan | Belgium | London | Basel | Athens | Paris | Marseille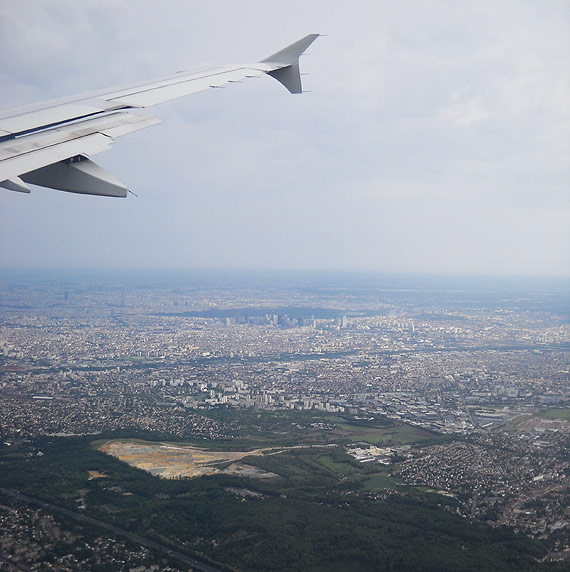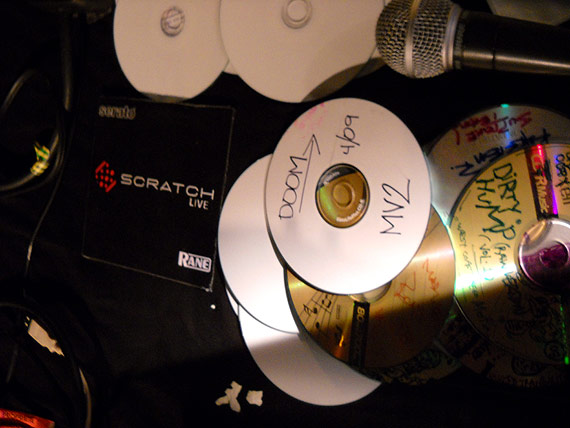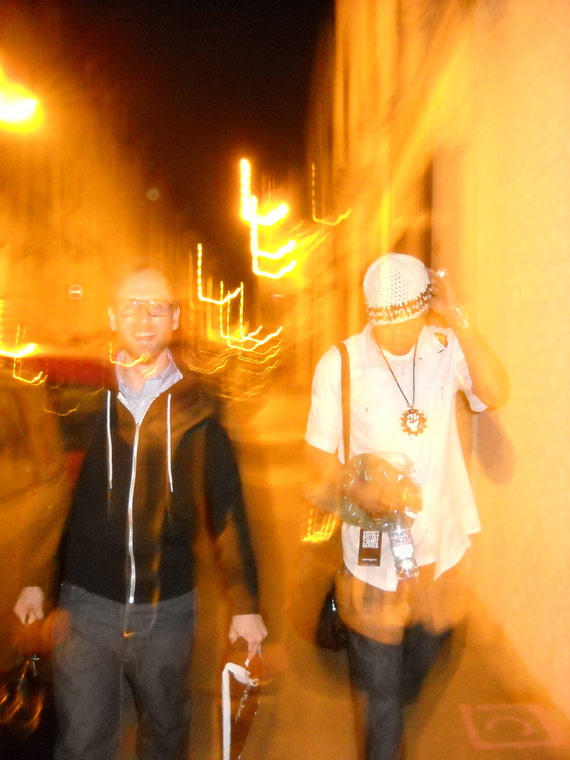 Photos by Mr. Mass (www)