Stones Throw will once again be throwing Hella International, our yearly party at Miami's Winter Music Conference.
Peanut Butter Wolf, J Rocc, Mayer Hawthorne, Dam Funk and guests will be DJing at this night time event, with a special appearance by Steve Arrington.
Saturday, March 12th, 10PM-4AM at Grand Central, 697 N Miami Ave, Downtown Miami. FREE EVENT. 21+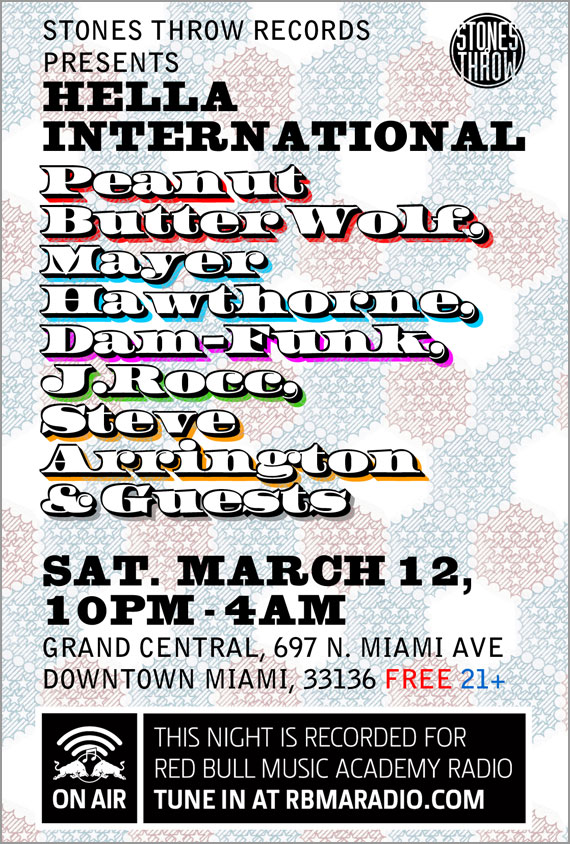 Here's audio from Madlib's set at Hella International 2008 when things got a little out of hand up on stage. The mix is interrupted by the chaos more than once, but it was all a part of a great experience. Clips from this set later made it on to Beat Konducta Vol. 5-6: A Tribute J Dilla.
Also see:
Hella International 2007
Hella International 2009
Podcast: Madlib Live at Hella International 2008
Podcast: Karriem Riggins Live at Hella International 2008
Podcast: Gaslamp Killer Live at Hella International 2009
MP3: Madlib remixes J Dilla "The $" from Hella International 3×12 Box Set