J Dilla's Donuts came out with two album covers. The image of Dilla with a smile, striped shirt, and cap was considered the main album cover. It was used on the digital release, the CD, and promo items. The alternate cover on the LP was a drawing of a donut shop. Both covers were designed by Jeff Jank, who also worked with J Dilla on the edit and sequence of the album. Here's the story behind the Donuts sleeves.
JEFF JANK:
When I first heard Dilla's latest beat tape, a CD-R labeled "Donuts," he had just begun what would ultimately become a year in and out of Cedars-Sinai Medical Center in Los Angeles. I didn't know the intimate details of his condition outside of the seriousness of being in the hospital for days at a time. He was in good spirits when I visited. I think the first time I visited I brought him a CD-R copy of Madlib's newly-finished Further Adventures of Lord Quas album, wrapped in a hand-made CD cover drawn on a paper bag.
Stones Throw made a deal with Dilla to turn Donuts into an album. The project of his that everyone was anticipating at the time was The Shining, his second album for BBE, but Donuts to us was like magic. It was already a classic as far as we were concerned. I had the role of working with J on all the details of the record, and somewhere between going back and forth, meeting him at two different hospital rooms, and once at Dave Cooley's studio when he was in a session for The Shining, the plan for the album art began to slip closer and closer to the deadline.
One night Dilla and his mother met a few of us at dinner in Hollywood. He asked about the album cover, and since I had no real answer, I came up with a joke about packaging the CDs in real donuts that you had to eat first to get to the CD. Another time he himself asked for, "some Quasimoto type shit." Most of all I wanted a photo of him on the cover, just to impress on everyone that this wasn't just some beat tape thrown on a record – it was just as serious a record as any.
Brian Cross aka B+ was going to shoot photos of Dilla on a trip they did to Brazil in 2005. He did take some photos of Dilla and Madlib in a record shop, but the trip was cut short for Dilla.
I reached out to our friend Andrew Gura who had filmed Dilla in a MED video recently. I liked those shots of J, but that was tiny, 720p digital video – would it work? I gave Andrew a call.
ANDREW GURA:
In 2005, Stones Throw asked me to make a video for the MED song 'Push'. We shot in two locations, one in Highland Park and one on Hollywood Boulevard. As was expected, Madlib didn't show up to set, but we were happily surprised when the semi-reclusive J Dilla did.
It meant a lot to P.B. Wolf and Stones Throw, it meant a lot to MED, and it definitely meant a lot to me to have my set blessed by Jay Dee. I'd met him on a few occasions before but it was usually brief and he was a man of few words around people he didn't know too well.
During the shoot I even kept the camera rolling after the music stopped on a few takes because it was obvious that he and MED were having fun together.
The end result was accepted to BET programming but never saw airplay because, despite the huge producers attached to the project (J Dilla and Just Blaze), MED didn't have radio spins. Lesson learned.
One completely unexpected outcome of the project was months later when Stones Throw art director Jeff Jank was designing the cover for Dilla's album Donuts. He realized that he had no unseen photos of Dilla and that Dilla's failing health made taking a new photo impossible. So he asked me if there were any stills from the shoot that might work for a record cover. I picked out a few and sent them to him, and the rest, is history.
Probably the coolest thing that came out of this whole situation was something that Egon told me: Dilla's mom said that she thought this photo "perfectly captured her son's spirit."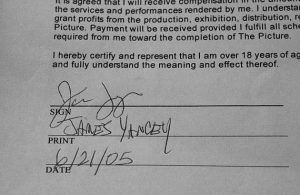 JEFF JANK:
Dilla's idea for "some Quasimoto type shit" ended up being the donut shop and various other scribbles I drew for the first LP edition. Since Andrew's screen shots from the MED video weren't high resolution, we used them for the smaller formats, digital and CD, but we still considered that the main album cover. These were put into production in Fall 2005. Dilla's health troubles were still not public knowledge at the time, and I naively believed that he was going to work through these problems and keep on making music for years to come.
A couple years after its original release we started getting requests for the "smile" cover on vinyl, so I digitally reconstructed the screen shot from the MED video into something to print at a larger size. We let the "donut shop" edition run out of print on vinyl, but started getting requests for that one too. For years now both have been in production. I've never gotten tired of hearing people who get inspired by J Dilla's music and Donuts.