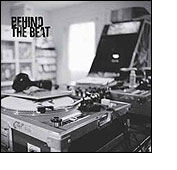 BEHIND THE BEAT: HIP HOP HOME STUDIOS
by Rafael Rashid
Ginko Press
160 Pages, 320 Color photos.
Publication: December 1, 2005
Behind the Beat is a look into the creative spaces of producers and DJ's from the US and UK. Featured are the studios and equipment of some of: Madlib, J Dilla, DJ Design, DJ Premier, DJ Spinna, Skitz, Nextmen, Taskforce, DJ Swamp, E- Swift, Beyond There, Kut Masta Kurt, Fat Jack, Jehst, Beatminerz, DJ Shadow, Dan the Automator, Chief Xcel, Young Einstein, The Grouch, Numark, Cut Chemist, Thes One, J Zone and Mario Caldato Jr.
From the press release: "These photographs are about more than just the equipment. Decades on from hip hop's birth, producers have an enormous presence, commanding underground and even pop followings. But more often than not, producers are just a name on a record, always in the background. These pictures capture the visual side of the beats they make. They are the images behind the beat."
The book includes a CD of several artists included in the book including tracks by Stones Throw's Lootpack and MF DOOM.
Author Rafael (Raph) Rashid runs a recording label called Crookneck in Melbourne, Australian, and is co-owner of clothing labels 'Blank' and 'Princess Tina'.