Here's some of the sleeves printed last week for the 3-LP edition of Madlib Medicine Show #9: Channel 85 Presents Nittyville.
The cover of this album is designed to look like a classic old postcard, "Greetings from…" with some sunny, pleasant scene in the background. Nittyvilly ain't sunny, though. It looks like a downtown on the morning after an all-night riot on the eve of the rapture.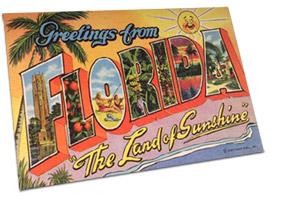 I showed the CD cover to Gustavo Eandi, who illustrated all of the pictures for the LP sleeves. He carried the theme a little further, even drawing a post office stamp that reads M-A-D-L-I-B and N-I-T-T, along with some other things like a logo for the album's fictional "Channel 85" TV station.
Hit+Run printed all of the sleeves in their downtown Los Angeles studio and numbered each one, 1-1500. We never really know what they're going to look like until the guys print them.
The vinyl is still being pressed, but we expect to have them ready to go by the previously stated release date of May 31st. The 3LP set comes with the album, plus an extra disc of tracks that aren't on the album.

In the store – MADLIB MEDICINE SHOW #9: CHANNEL 85 PRESENTS NITTYVILLE