Guilty Simpson talks "Stress" and Dilla
Dominic Umile dominicumile.wordpress.com June 11, 2009
Originally published on Dominic Umile's blog dominicumile.wordpress.com

In a story I wrote about a handful of Detroit talents in 2007 — I talked to Guilty Simpson in preparing for the piece at the time. In discussing his J Dilla-produced "Stress" track here, I thought I'd revisit a few things we discussed that I edited out of the Orlando Weekly/Metro Times feature.

Detroit emcee Guilty Simpson doesn't really qualify as "new," by any stretch of the word, but this "Stress" track is new to me, and the pieces of our 2007 conversation here will be new to readers. Rappcats posted "Stress" last week — visit their blog to pick it up, and check out all the other stuff they're offering over there, particularly the much-needed rundown on the Madlib Mind Fusion series.

Guilty rides an arrangement of melodic keys and slumping beat courtesy of good friend and collaborator J Dilla on white label 12-inch "Stress," available now at FatBeats. "Stress" didn't make Guilty's 2008 debut LP Ode to the Ghetto — it's incidentally a part of an unrealized full-length that he and Dilla were working on before J's passing.

"There was a lot of stuff that Dilla still had to say," Guilty told me a little more than two years ago. We talked a lot about Detroit, his then-unfinished full-length, and about his memories of J Dilla.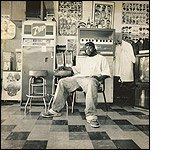 "Luckily, J worked so hard that for people who are now just getting acquainted with his music, there are tons and tons of material that they can go out and get and learn up on his genius, and how great he was with the music. He still is very instrumental in anything I do in the future, but the plans that we had — doing the album together, cutting a record which he would produce everything from intro to outro — there's a whole lot of different things that we didn't get a chance to get finished. I'm definitely thankful for the time I had with him, because he just taught me so much about building songs, and really sticking with a song from beginning to end and making sure it sounds right. He was a real stickler about sounds and how stuff sounded. I definitely took what I learned from him and try to apply it to whatever music I work on."

At the time of my conversation with Guilty Simpson, there were preliminary intentions to include "Take Notice" on his Ode to the Ghetto LP (I wrote about that record here).

"Take Notice" didn't make the tracklist, and I can only assume that because he was sifting through a number of his teamups with J Dilla, that he'd hoped/still hopes a full-length would package the previously issued Dilla-produced tracks with those floating around that no one has heard. Icy, unadorned space is broken up with grim organ bits on "Take Notice," which appeared on Dilla's Ruff Draft, originally a German-only vinyl EP in 2003 before Stones Throw issued it in its current extended version. The satisfying mixed bag on Ruff Draft was originally developed for a windows-down-low, ride-around-in-the-summer car stereo cassette tape experience. It's almost all Dilla — "Take Notice" is the only Ruff Draft entry that features a guest emcee.

"If you apply yourself and work for it, you can do it," Guilty said of Dilla's inconceivably resilient work ethic. "I know that sounds cliche and shit like that, but he would tell me just to stick with it because he already had faith in my talent, so a lot of the things he was telling me, they were to enhance and channel my aggression, so to speak. He was really particular about sounds, and when I would see him, he would have a composition in his head, and he wouldn't stop until it was on record. He taught me to do things the right way. He said it would take longer, but once you do it the right way, you dont have to go back and mess with it and do anything else to it. In turn, that makes what you accomplish that much more gratifying."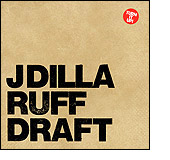 "Dilla was a genius," says Guilty. "Real humble and cool, and that's another thing — how humble he was. You could be in the lab with Dilla, and if you didn't know who he was, and he left, you wouldn't even know who you were in the room with. You would never know by his demeanor. He was never egotistical. He was humble, always smiling. That's the biggest thing I remember about him. Smiling. And during the times when he was sick, whenever I was around him, he was still more concerned with me being comfortable and having the things that I needed, rather than him being sick. To live life to the fullest, and to accomplish your dreams, that's what Dilla taught me. He was living proof of that."

Guilty Simpson is now a part of Random Axe, a trio that finds him performing alongside Sean Price and Black Milk. Go here for "Monster Babies," a hard-cracking tumbler built in Black Milk's beat machine. It follows closely Milk's "Sound the Alarm," another brag-heavy number circa 2007 that landed Guilty on a Black Milk track for the first time. Aside from content that appears to be more rooted in posturing than I can usually take, I'm looking forward to checking out what these Random Axe guys have planned.

Guilty Simpson performs live at Airliner in Los Angeles, June 19, and at Karma Lounge in Ventura CA, June 20.

www.stonesthrow.com/guiltysimpson
www.stonesthrow.com/jdilla