Gary Rector was working at a Statesville business hocking used cars when Ronnie Anderson happened by, looking for some wheels. One thing led to another and Rector ended up managing Anderson's group, a collective of young musicians from Statesville, Lexington and Salisbury called the Soul Vibrations. "Their ability was very natural; they were very creative," Rector recalls. "They were all talented but the drummer and keyboardist stood out."
While rehearsing a vocal song for local yelper "Little" David Lee Clodfelter, the group gigged out a Kool and The Gang-influenced ode to Anderson's nickname, "The Dump." Recorded the next day by Galaxie III's Harry Deal, an engineer who recorded notable funk locals like Rayfield Reid and released his own funk tune "Fonky Fonky," "The Dump" served as the group's one and only calling card. Note the funky Vox organ solo – typical fare for the Beach/Shag-crowd that frequented Deal's studio.
Of the remaining Soul Vibrations personnel, only bassist Jarvis Sainer could be located. Due to religious convictions, Sainer declined to be interviewed. Thus, we present the story of the Soul Vibrations as told by their manager and friend Gary Rector, owner of Vibrant Records.
Egon: So you weren't even in the music biz – you sold cars!
Gary Rector: All of us had pretty limited knowledge. We really depended on my friend Harry Deal, who had his own studio.
The group really built off of Ronnie Anderson and William Acosta.
Right, the backbone was the keyboard and drummer. I was particularly impressed with those two. All of them were talented, but those two stood out. The group happened by happenstance. The drummer was instrumental – he came to me in need of management. We began to have the guys come by, they started playing and rehearsing.
You met selling Ronnie a car, right?
I was working as a business manager for a local business, one of the things they had was used cars. I think Ronnie had come by looking at cars and we were just out there talking.
The group was made up of local guys?
All of them were from in and around Statesville, Lexington and Salisbury. Even the vocalist on "I'll Find A Way," David Lee Clodfelter. He went as "Little David Lee," in appearances and so forth.
And you?
I'm from Statesville.
What was your first impression of the group?
Their ability was very natural, they were very creative. They were young guys, they ranged in age from early to late 20s.
Were they songwriters as well as performers?
They were doing some of their own material, then they were doing top forty stuff and funk. I told them, "One of the things you're going to need to get over in the club scene – there was a lot of competition back then – is have a beach set." I know beach music means a lot of different things, certainly in California it means a different thing than it means in South and North Carolina. But beach music is kind of a prerequisite to get into clubs here. The Soul Vibrations learned that music and did it quite well.
How about their original material?
As far as original material, funk and ballad type stuff was what they were working on. "The Dump," that was the nickname for the drummer. I think that actually "The Dump" lead to the desire to record. They were sitting around one night and they started developing the song. They'd been working on "I'll Find A Way" also and they felt that "The Dump" would be a good B Side. That just kind of helped provide the impetus to go record. They'd been working on the vocal and the instrumental came about. They were in there working on it - it seemed very spontaneous.
Did you add anything to the creative process?
(Laughs) The little whistle sound in the beginning, that was a toy that I had bought for my son to carry home. One of 'em had picked it up and was messing with it, and they started the instrumental with it.
Some creative guys!
They just seemed to have so much natural ability. Pretty soon they had that thing together and when we went to the recording studio, we just nailed it.
Right, how did you know Harry Deal? He's quite important in the whole North Carolina recording scene.
I knew Harry long before music ever came up. I knew him as being a member of the community. He was a Duke graduate, and me being a graduate of UNC Chapel Hill we used to joke – we had a sports rivalry. I had gone to clubs and heard Harry's band playing. I always had a high regard for his ability as a musician.
Tell me about your label.
I formed the label just to put out the Soul Vibrations, it seemed like a good title for the label since it was similar to the name of the band. We made 500 records. We may have done two orders of 250 each.
How did you distribute the records?
We carried them to radio stations to try to get some airtime – we had limited success. We heard that in Lexington it was being played a good bit. Then we heard that one radio station was just using that whistle lead in to "The Dump" as part of a commercial.
And you must have sold the record at live shows.
Yes, we opened for Ben E. King and Millie Jackson. She was the biggest audiences they had. We did Lexington with Jackson - Charlotte with King. We played a lot of clubs in North and South Carolina, Tennessee, Georgia and Alabama. Also we did fraternity parties. In the South, it's very popular to play in lodges, with older crowds. That required oldies and beach music. I don't want to imply that the Soul Vibrations were constantly limited, they got to express themselves once in a while. And you could tell they really enjoyed it - to go in there and jam.
How long did the band remain together?
It seems like they were together for about a year. If you were in a group back then, you had a lot of competition. By the time you paid out your expenses, nobody was making a living. They were all working regular jobs. So when the opportunity came along to make a regular gig out of it, they took it. The drummer and the keyboard player were able to get some bigger gigs. In fact, I can't remember the group he was with but I got a postcard from Switzerland from William. He was appearing with War and Patti Page. I don't know the connection there!
Have you seen any of the guys recently?
Jarvis is the only one I've seen over the years. He's in the ministry now, which is indicative of that whole bunch. They all seemed to have good characters.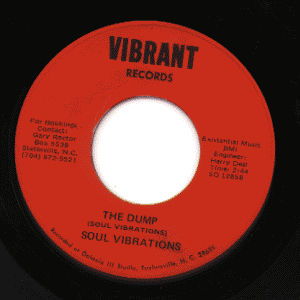 "The Dump" - Soul Vibrations 2.40
(Soul Vibrations - Existensial Music. BMI)
Recorded early 1973, Galaxie III Studios, Taylorsville, NC
Engineer: Harry Deal
William Acosta (organ); "Soup," "Carlos" (trumpets); Jimmy Flowers (guitar); Jarvis Sainer (bass); Ronnie Anderson (drums)
Produced by Soul Vibrations
Originally released on Vibrant single SO 12858
Pressed June 13, 1973. Reported to BMI December 17, 1973
Licensed by Gary Rector