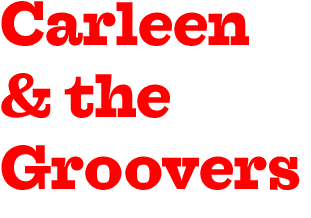 Carleen Butler is five years Clary Butler's senior. But it was Clary who moved his big sister's musical taste towards funk music. "She started on the drums in marching band. She was the first female drummer in Barnes Wilson High School," Butler states proudly. "I was a James Brown man. Back then everybody did church music. Then you did your other thing – James was my man." After Butler graduated from South Carolina State College – and toured with Etta James and Wilson Pickett – he returned home to Charleston, where he grabbed his sister from her jazz band and formed The Groovers with local musicians and some fellas he met in Orangeburg.
The motley crew – including John Scott, a Hendrix-influenced guitarist who drove a hearse to gigs – remained together for five years. Butler briefly reformed as St. Clair and The Midnight Groovers before becoming a disco DJ. Sister Carleen moved to Germany, where she played jazz on tour boats before returning to South Carolina as a deputy sheriff.
Now a pastor, completely removed from secular music, Butler reflects on his tenure as a JB-hopeful
E: Where were you born?
C: Charleston, South Carolina. Carleen is my older sister – I have one brother and two other sisters.
E: Do you come from a musical family?
C: My parents weren't musical at all. Carleen got the music bug first. She was listening between the church and r & b. This was back in the 50s and 60s. Maybe the early 60s.
E: How'd she get her start in music?
C: She started out in marching band in high school. She was the first female drummer in Barnes Wilson High School. I'm younger than Carleen by five years. I was a James Brown man. Everybody did church - coming up you had to do church. Then you did your other thing. James was my man. I was listening to the voice, but later on when I started playing trumpet I got enthused by what his horns were doing.
E: When did you start playing the trumpet?
C: I started on trumpet in my freshman year of high school. I'm 53 now.
E: Bring me through your musical development
C: I did a lot of different things. I went through the marching band myself. Later on I became a drum major. During my senior year in high school, I started playing with a local group called The Royal Entertainers. They were real, real good group. From there, I got better and better on my horn and got a scholarship to South Carolina State College in Orangeburg, South Carolina. And I played in the marching band there. I graduated there, but stayed in the band only one year.
E: Anything outside of school?
C: I started playing with a rock n' roll band called The Exotics. They were doing a lot of traveling across the southern part of the country. They played at all the universities. I started with them when I got to college. This was about' 66. Then I came home one summer and Wilson Pickett was on tour. And he had fired his whole band up in Delaware. So when he came to town, and he had a whole new group. And they didn't have any trumpet players. So he was looking, and he asked around and someone told him I was the best trumpet player in town. He was there to do The Charleston County Hall that night. I went and sat in with the band. They were so desperate, they asked me if I knew any of Pickett's tunes, and I said, "Yeah!" Back during that time he was doing "Mustang Sally" and a whole lot of tunes like that.
E: Tell me more about that night.
C: I played with them that night - when Pickett came onstage we were sounding so good he looked over at me and winked. When he winked, that was to say, "I like what you're doing." After that, he motioned to the head of the band to ask if I would go on the road with him. I went home and asked my mom and she said "Yeah, you can go." I was a sophomore in college.
E: What year was this?
C: This would have been '68 or '69. Funk was heavy then. We had a sixty day tour; we went all over the country. On the tour with us was Arthur Conley and later Etta James. I was involved with it all. We went to a town called Lubbock, Texas. Pickett did Lubbock but then he went back to Delaware for some reason. And he wanted us to meet him there. But Etta asked me to go to California. So I went to California! Don't ask me why, I was young and crazy. And we were playing to these huge audiences. Before that, all we were doing was nightclubs in Charleston. All of a sudden we were playing to 5, 6, 7,000 people. Going from one city to another.
E: So you went from one coast to the other! Amazing!
C: I remember when we first went to California, the air conditioning broke. We were going through Arizona, and this was my first time out there. We didn't know whether to put the window up, or leave it down. It was just that hot! It came out better just to leave it up, but with a little crack. Just enough to breath!
E: How long were you on the west coast for?
C: I stayed in California for about three or four weeks. I met Little Richard and did one night with him in Hollywood. Just doing trumpet. I came back to Charleston to go to school. This was all during summer break! That was it for me. I had left Pickett. I just went, I was out there.
E: What happened to your music after you returned, a seasoned road vet?
C: This would have been my junior year in school. I finished up. And I started again with The Exotics. They were a black group. Pickett originally had an old black band. But when I came with him it was an all white band except for the guitar player. And those guys played that stuff, man!
E: What lead to the formation of Carleen and The Groovers?
C: After we got out of college, then Carleen and I decided we would hook up together as brother and sister. She was playing with Lonnie Hamilton, a county councilman here in Charleston. He used to be band director at Barnes Wilson High School, he was a real good jazz sax player. There was another white guitar player she was with – I forget his name.
We started the band 'cause we had it going with The Exotics, and me having a big head by that time I wanted to do my own thing. I was coming back home. The Exotics were in Orangeburg and we were in Charleston. I didn't feel like going back and forth. I said, "Well, I'm coming home and I'm going to do my own thing." So Carleen and I got together, with a couple local musicians – and a couple guys I met in Orangeburg decided they wanted to come this way with me.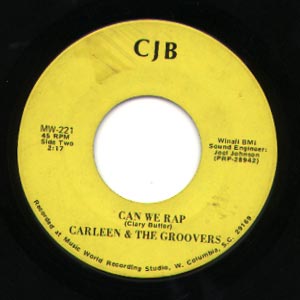 "Can We Rap" - Carleen and The Groovers 2.13
(Clary Butler - Winall BMI)
Recording date unknown, perhaps 1972, Music World Recording Studio, W. Columbia, SC
Engineer: Joel Johnson
Leonard Chisholm (saxophone), Clary Butler (trumpet, vocals); David Stevens (bass); John Scott (guitar); Carleen Jean Butler (drums)
Produced by Clary Butler
Originally released on CJB single MW-221
Licensed by Clary Butler