Egon on Carolina Funk for NPR
Egon
NPR
November 11, 2008
I attended college in Nashville, in large part so that I could be close to the regional metropolises of the Midwest and Southeast. There, I figured I'd have a better chance of striking "black gold" — in the form of rare, regionally released funk 45s — than I would in the Northeast, where I'm from, and where competition was (and is) fierce.

Some of my favorite trips during the years between 1996 and 2000 were those I took east of Nashville, in the fall, over the Smokey Mountains. The ridges crested with gold and amber as we entered North Carolina. The quarry? The legendary songs we'd heard on various bootleg compilations, of course — and any undiscovered gems we might find along the way.

Last year, Jazzman Records released a compilation largely assembled by Carolina funk and soul historian Jason Perlmutter, called Carolina Funk: First in Funk. In the interest of full disclosure, I distributed the title in the U.S. on Now-Again Records. But — and I do write this objectively — it is one of the finest exhumations of funk music yet, despite the fact that it centers on two states best known for bluegrass.

Take this list as an addendum to that album: further study into two states whose output rivals that of New York, California and Texas in terms of the quality and quantity of regionally issued funk masterpieces.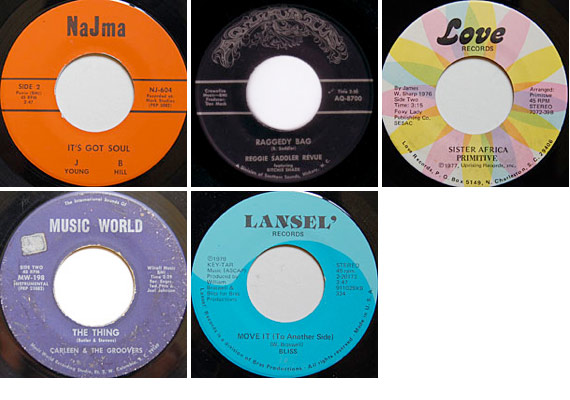 J. Young and B. Hill "It's Got Soul"
Album: It's Got Soul
Released as one of the first two 45s on trombonist, bandleader and label owner James Reese's Najma Records, this thunderous proto-funk stomper has yet to see release in any official form. Only a handful of these 45s exist. Thankfully, Reese has seen fit to release his two sophisticated funk classics, "Let's Go (It's Summertime)" and "Jody's Freeze" on a series of compilations over the years.

Reggie Sadler Revue "Raggedy Bag"
Album: Raggedy Bag
On one of our many trips to North Carolina in college, we lucked into a find: "Funcky Soul Brother" by Soul Drifter. But the price was a hefty $1,000. So we, collectively, offered our regrets and instead splurged on this piece by Reggie Sadler. It's aged just as well. We were taken by the numerous drum breaks and rambunctious house-party feel. Many hip-hop producers have grabbed a drum hit or two, probably from the only compilation to feature this track: Keb Darge's Legendary Deep Funk Vol. 3.
Ken Darge's Legendary Deep Funk, Vol. 3 is available from Amazon.

Primitive "Sister Africa"
Album: Sister Africa
Primitive's earliest offering (back when it went by Primitive Expression), called "Caveman," sounds so raw, it's surprising that it even made it onto wax. "Sister Africa," recorded and released a few years later, continues the band's study of Kool and the Gang's wah-wah- and horn-driven funk with excellent results, though the off-kilter bridge is a bit jarring.

Carleen and The Groovers "The Thing"
Album: The Thing
Carleen and the Groovers, a South Carolina ensemble led by siblings Clary and Carleen Butler, are responsible for what many acknowledge as the two finest funk 45s to originate from the Carolinas. While "Can We Rap" and "Right On" are righteous James Brown-influenced tunes, "The Thing" is the band's sleeper classic: a psychedelic-leaning funk lurcher that owes to guitarist John Scott's appreciation of Jimi Hendrix.
Available on Cold Heat (Now-Again Records)

Bliss "Move It (To Another Side)"
Album: Move It (To Another Side)
Bliss presents more of a disco take on the sound, but its up-tempo burner "Move It (To Another Side)" is nonetheless a gorgeous piece of funk. According to Carolina-based researcher Jason Perlmutter, the band's lone 45 saw distribution only in and around the Goldsboro, N.C., area in 1979. Thankfully, Kay Dee Records recently reissued this as a 12" single.
Available from Kee Dee Records

--
Listen to audio samples at:
www.npr.org/templates/story/story.php?storyId=95731647