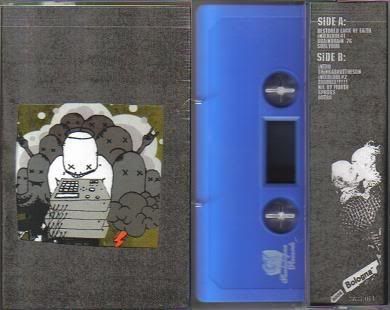 Saint Surly - "Beat Tape Manifest(o)"
art by saint surly - limited to 50 copies!
Saint Surly is a hip hop/electronic beat maker and visual artist hailing from Brisbane, Australia. Devising sample-based beat collages that range from reflective to boom-bap, Saint Surly is interested in the DIY aspects of Hip Hop and sampling as a musical form. Drawing from a wide spectrum of sonic influences from "Golden Age" Hip Hop to Dub to 60's/70's psychedelic rock to Punk and Funk and Jazz etc...., he approaches sampling as a way of constructing new forms out of old materials, each with their own signifying histories that come together to devise a fresh narrative and rhythm..." - copied from
myspace.com/saintsurly
$5 ppd USA
$7 ppd WORLD
paypal to:
corypeak@hellokitty.com
or get in touch to mail cash/check/money order
OR order from
sassbologna.com
i will only have 30 of these, sending surly 20 soon.. act fast if you want one!
preview beats on sassbologna or saint surly's myspace