Quasimoto - The Unseen 2LP
Label: Stones Throw Records
Catalog#: STH 2025-1
Format: 2 x Vinyl, LP
Country: UK
Released: 2000
This is the Nu Gruv distributed pressing, the rarest pressing of this LP. It is in Like New condition; there are no marks or scratches on the vinyls and absolutely no waring of any kind on the sleeve. It is still in the plastic wrapping (see photo) but is not seeled. This is the first pressing, not the pressing that often comes up on eBay, so grab it while you can!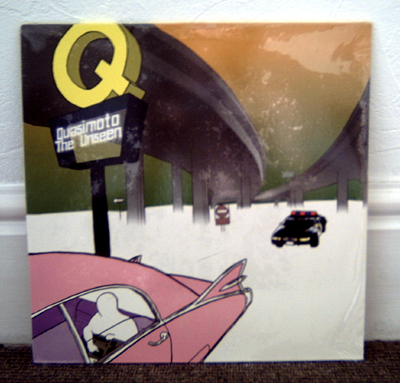 Track List
A1 Welcome To Violence (0:49)
A2 Bad Character (1:55)
A3 Microphone Mathematics (3:14)
A4 Basic Instinct (2:08)
A5 Goodmorning Sunshine (3:00)
A6 Discipline 99 Pt.0 (2:32)
Rap [Featuring] - Mr. Herb
B1 Low Class Conspiracy (2:26)
B2 Return Of The Loop Digga (3:48)
B3 Real Eyes (3:22)
B4 Come On Feet (3:35)
C1 Bluffin (2:47)
C2 Boom Music (2:47)
C3 MHBs (2:05)
C4 Put A Curse On You (1:46)
C5 Astro Black (3:17)
C6 Green Power (2:59)
D1 Jazz Cats Pt.1 (3:08)
D2 24-7 (2:48)
Rap [Featuring] - Medaphoar
D3 The Unseen (2:53)
D4 Phony Game (1:56)
D5 Astro Travellin (2:59)
I would prefer a PayPal payment, but would accept other types if necessary. I will post it within two days after recieved payment by Royal Mail 1st Class.
LOOK
, BUY
now