DETROIT CONCEPT ALBUM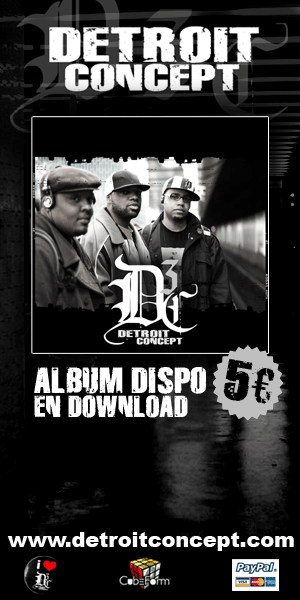 we are the collective
D3
with 3 mc's :
EMER GEA, KWAME and VESTAT
3 beatmakers:
TAYREEB, GEA and ZEBONWHAT WE DOIN ????
: the dopest mixtape to pay homage to the Detroit artists that we listen 24/7 and that y'all already know !
J DILLA
(rip)
BLACK MILK PHAT KAT GUILTY SIMPSON
and
SLUM VILLAGE
.
WHY ??? :
Because we're trendsetters !!!! France need to be introduced with the sound from the D's and we decided to do some godammit !!! we wanna warn th haterz, we're not copycats !!! it 's all about INSPIRATION ! i mean muthafuckaz tryin to do CRUNK MUSIC !! LOL so let us do some DETROIT INSPIRATION MUSIC !!
Don't Sleep !!!!!!
Tracklisting :
[01]
Intro Hommage
[02]
Fédérateur
[03]
Langue Consciente
[04]
D3 Shit !
[05]
Phat Beat, Real Mc's
[06]
We do What we do
[07]
Lazer war - skit
[08]
Cette Zik
[09]
Ohhh!!!
[10]
9 a.m.
[11]
Take a Break
[12]
256mo - skit
[13]
V comme Vestat
[14]
Fire
[15]
C'est Chaud
[16]
Nous contre eux
[17]
Outtaspace
[18]
What's next? - skit
[19]
Coup 2 Gueule
[20]
Aint no Bitch
[21]
Detroit Concept
[22]
Overseas Music
[23]
What's Left feat. BLACK MILK
[24]
Outro Dilla's Celebration
MIXTAPE AVAILABLE ON DOWNLOAD AT DETROITCONCEPT.COM
spread the word!!